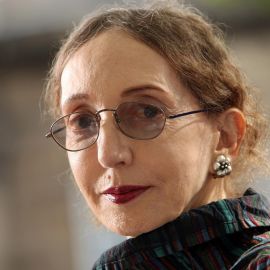 In addition to numerous novels and short story collections, she has published several volumes of poetry, several books of plays, five books of literary criticism, and the book-length essay On Boxing. John Gardner has called her "one of the greatest writers of our time."
Her writing has earned her much praise and many awards, including the PEN/Malamud Award for Excellence in short fiction, the Rosenthal Award from the American Academy - Institute of Arts and Letters, a Guggenheim Fellowship, the O'Henry Prize for Continued Achievement in the Short Story, the National Book Award for her novel Them, and in 1978, membership in the American Academy-Institute. What I Lived For was nominated for the 1995 PEN/Faulkner Award.
Often Oates's "vision" is that of a highly complex America populated with presumably ordinary families who experience common yet intense emotions and relationships and who frequently encounter violence. Her ambition is to create a fictional world that mirrors the ambiguity and felt experience of the real world of her time.
On the occasion of the publication of You Must Remember This, critic James Atlas called it "an American Masterpiece." Also said of Oates's writing in general: "The engine of Oates's immense talent is powered by a fecund imagination and an immense knowledge of literature, as all her writing -- both fiction and nonfiction -- made plain."