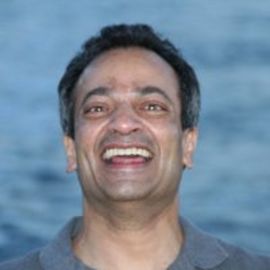 JP Rangaswami
Chief Data Officer at Deutsche Bank; Head of Strategy and Innovation
As Chief Scientist at salesforce.com, Rangaswami will focus on helping salesforce.coms European customers think about innovative ways to use the real-time, mobile and social capabilities provided by Salesforce apps and the Force.com platform.
Rangaswami joined salesforce.com in November 2010 as salesforce.coms first Chief Scientist. He is tasked with the responsibility of contributing to salesforce.coms product strategy and ensuring that the benefits of cloud computing are being promoted globally.
Prior to joining, Rangaswami spent four years at BT in London, most recently as Chief Scientist of the BT Group. He brings over 30 years of technology experience to salesforce.com with large multinational companies. This includes holding the role of global chief information officer at investment bank Dresdner Kleinwort Wasserstein, which he joined in 1997. While there, he established his reputation for innovation within the enterprise, culminating in a series of Harvard Business Review case studies. Rangaswami has also held a variety of leadership and technology positions at Burroughs Corp., Data General and Hoskyns Group.
Rangaswami is chairman of School of Everything, an educational start-up that teaches a broad range of socially focused topics via the web. He is also a venture partner at Anthemis Group.
Rangaswami is a Fellow of the British Computer Society, a Fellow of the Royal Society of the Arts and is a Chartered IT Professional of the British Computer Society.
He writes a popular blog called Confused of Calcutta, and contributed a guest chapter to The Cluetrain Manifesto, a best-selling business book.
He holds a Bachelors degree in Economics and Statistics from St. Xaviers College, University of Calcutta.
Videos
---
Speech Topics
---
music
cultural social innovation audience christian organization reality online work
ideas thought
change power start understanding build human future open
global
system cities greece mobile growth government china countries euro
oceans
planet earth nature change life google water system climate
portugal india
africa mobile forest technology regulation people understanding rural