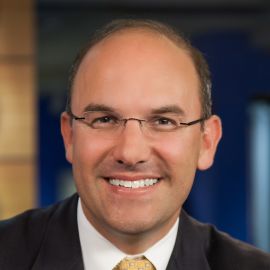 Juan Zarate
Former Deputy Assistant to the President and Deputy National Security Advisor for Combating Terrorism
Juan Carlos Zarate, Esq. is a senior adviser to the Center for Strategic and International Studies and the senior national security consultant and analyst for CBS News. Mr. Zarate was born and raised in Santa Ana, California, and he is a member of the California Bar. He advises companies and organizations on national, homeland, and finance-related security, technologies, and investments. He sits on the Board of Advisors for the director of the National Counterterrorism Center, the Board of Advisors for Regulatory DataCorp, and the Board of Directors for American Charities for Palestine.
Mr. Zarate also served as the deputy assistant to the president and deputy national security advisor for combating terrorism from 2005 to 2009. In this role, Mr. Zarate was responsible for developing and overseeing the effective implementation of the U.S. government's counterterrorism strategy. He was also responsible for overseeing all policies related to transnational security threats, including counternarcotics, maritime security, hostages, international organized crime, money laundering, and critical energy infrastructure protection.
Prior to joining the National Security Council, Mr. Zarate served as the first assistant secretary of the treasury for terrorist financing and financial crimes where he led Treasury's domestic and international efforts to attack terrorist financing, build comprehensive anti-money laundering systems, and expand the use of Treasury powers to advance national security interests. This included the development of a new brand of financial power that has been used to pressure North Korea, Iran, and other rogue actors. Mr. Zarate also led the U.S. government's global efforts to hunt Saddam Hussein's assets, resulting in the return of over $3 billion of Iraqi assets from the U.S. and around the world. Mr. Zarate served at the Treasury Department from 2001 to 2005, where he received the Treasury Medal.
Prior to working at the Department of the Treasury, Mr. Zarate served as a prosecutor in the Department of Justice's Terrorism and Violent Crime Section, where he worked on terrorism cases, including the USS Cole investigation. Mr. Zarate previously worked as a federal law clerk for Chief Judge Judith Keep in the Southern District of California.
Mr. Zarate is a magna cum laude graduate of Harvard University and a cum laude graduate of the Harvard Law School. He studied as a Rotary International Fellow at the Universidad de Salamanca, Spain.
A noted commentator on national security issues, with a weekly show for CBS News called Flash Points, Mr. Zarate is a recognized author with several publications, including "Harnessing the Financial Furies: Smart Financial Power and National Security," Forging Democracy, a book on the impact of U.S. foreign policy on democratization in Central America, and "The Emergence of New Dog of War," a groundbreaking article published in 1998 on the growing use of private military and security companies by nation states.
Speech Topics
---
Treasury's War.
For more than a decade, America has been waging a new kind of war against the financial networks of rogue regimes, proliferators, terrorist groups, and criminal syndicates. In a presentation that is "Moneyball meets Charlie Wilson's War," Juan Zarate pulls back the curtain on this shadowy world. Through gripping stories, he explains how a small, dedicated group of officials redefined the Treasury's role and used its unique powers, relationships, and reputation to apply financial pressure against America's enemies. He was at the head of a new brand of financial power—one that influenced and leveraged the private sector and banks directly to isolate rogues from the international financial system. By harnessing the forces of globalization and the centrality of the American market and dollar, Zarate and the Treasury developed a new way of undermining America's foes, which is now critical to the most vital geopolitical challenges facing the United States, including terrorism, nuclear proliferation, and the regimes in Iran, North Korea, and Syria. Smart, direct, and engaging, Zarate also addresses how the targets of these operations have adapted to the new system and what the future holds for this incredibly effective but little-discussed financial power, which serves as America's best weapon when sanctions are not enough but war is not an option.
National Security Challenges, Global Risk, and Emerging Opportunities in an Age of Terror and Uncertainty.
In an age of terrorism, growing threats from rogues states, non-state actors, and intensifying globalization, Juan Zarate – the U.S. government's counterterrorism czar – explains current threats and trends, those on the horizon, and the risks and opportunities to governments and businesses operating in a global environment. With deep experience in managing U.S. domestic and international responses to transnational threats from the White House, Zarate puts these issues – from terrorism and piracy to cyberthreats and nuclear proliferation – in strategic and economic context, while explaining the systemic and interconnected nature of the challenges the United States and its allies face. There are few who understand as broadly and deeply as Zarate the national and homeland security implications of the threats we will be facing for years to come and the likely responses and opportunities that will arise as a result.
Understanding the Financial Furies: Economic Sanctions, Financial Regulation, and the Evolution of Smart Financial Power.
The international financial system and economy have undergone enormous change and stress during the current economic downturn, and – as a result – they will be subject to increased international regulation and government intervention. This new environment will create additional burdens and opportunities for the private sector, while governments will be more reliant on additional sanctions and regulations to protect the integrity and security of the financial system. This will feed a new brand of financial power determined by reputational risk and market forces, economic sanctions, and financial regulation, which will be used to pressure and isolate terrorists, drug traffickers, money launderers, international organized criminals, and rogue states. Zarate – who helped establish this new brand of smart financial power as the first assistant secretary of the Treasury for terrorist financing and financial crimes – oversaw the largest expansion of the anti-money laundering system in the U.S. since the 1980s. With that experience, he addresses the evolution of the global regulatory structure, the increasing use of financial influence in national security, and the likely costs to the private sector.
Related Speakers View all
---
Ian Bremmer

Political Scientist, Author, Entrepreneur & Lecturer

Robert D. Kaplan

Best-Selling Author & Atlantic Monthly Correspondent

Muhammad Yunus

Nobel Peace Prize Laureate & Founder of Grameen Bank...

Jeremy Rifkin

Leading Global Technologist, Futurist, Authority on ...

Peter Zeihan

Energy & Geopolitical Strategist, Author of "The Abs...

Joseph Stiglitz

American Economist, Professor at Columbia Universit...

Hamish McRae

One of the Leading Speakers in Europe on Future Tren...

Parag Khanna

Leading Geo-Strategist & Author

Geoff Colvin

Editor & Columnist at Fortune Magazine; Author of "H...

Jim Carroll

One of the World's Leading Global Futurists, Trends ...

Todd Buchholz

Former White House Director of Economic Policy & CNB...

Sarah O. Ladislaw

Co-Director and Senior Fellow, Energy and National S...

Edward C. Chow

Senior Fellow, Energy and National Security Program

Clive Crook

Columnist and member of the editorial board at Bloom...

Kent Moors

Oil Policy Expert & Global Risk Consultant

Marvin Zonis

Political Economist & Consultant

Geoffrey Moore

Organizational Theorist, Management Consultant & Author

Anil Gupta

Leading Expert on Strategy, Globalization and Emergi...

Ted Fishman

Best-Selling Author of "China, Inc." & "Shock of Gray"

Jeffrey Garten

Professor, Yale School of Management and Expert on G...
More like Juan