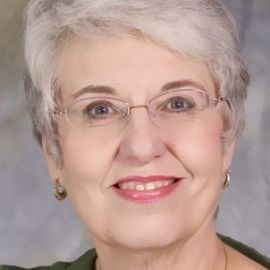 "Visiting with Judy is like having a cup of tea with a loving auntie"
Judy is a life educator, family coach, and keynote speaker who has written more than 20 books, hundreds of articles and speaks internationally on family, parenting and relationship issues, including communication, encouragement, and end of life. She also focuses on personal issues like anxiety, depression, confidence and self-esteem and works with many small and large organizations-- from Head Start to child care resource centers.
Artichoke Press is not Judy's only self-starter project. Judy has owned and managed numerous small businesses, and her entrepreneurial experiences as a mother of six and a stay-at-home-mom is what prompted the National Association of Home-Based Moms (NAHBM) invite her to join their expert advisory council.
The symbol of the artichoke has great meaning for Judy in her teaching and writing. As she works with families, she sees that frequently only the outer edges are exposed, which can be prickly and sometimes bitter to the taste. But, as you expose the artichoke and people to warmth, caring, and time, gradually the leaves begin to open and expose the real treasure--the heart.
The artichoke also became a teaching lesson when Judy, as a young military mother, moved her family into military housing in California to find a surprising collection of artichokes planted in their yard. Knowing it takes two years for the vegetable to grow, Judy realized the original gardener never saw the fruits of their labor, but planted the artichokes anyway. Judy was reminded by this experience that many times in life our actions toward others are felt by people we will never meet, but we plant the seeds of kindness anyway.
You will enjoy Judy's approachable manner, wonderful storytelling and common- sense solutions gleaned from working with hundreds of families and organizations just like yours. Your encounter with Judy will leave you feeling inspired, entertained, and especially motivated.
Judy is a regular columnist for Women's Online Magazine and Montana Woman.
Related Speakers View all
---
Tina Marie Jones

Connecting with the audience through the style of a ...

Jean Bailey Robor

Jean Bailey Robor, award-winning author and inspirat...

Lori La Bey

Driving Change How Caregiving is Perceived, Received...

Dr. Samantha Madhosingh

The Holistic Success Doctor®

Joseph Covelle

Speaking From the Heart To Help Change Minds

Tonisha Pinckney

Empowerment Beyond Victimization - Author of I AM MO...

Charlie Alejandro

Motivational Speaker, Writer, Actress & Radio Talk S...

Coach "Z" Jackson

Motivational Speaker, Author, and Self-Encouragement...

Kristi LeBlanc

Premier Expert on Recruiting-Engaging Purposeful, Pa...

Carey Lohrenz

First Female F-14 Fighter Pilot in the U.S. Navy, T...

David Hyner

Professional Speaker, "The Massive Goal Principle"

Shawn Rene Zimmerman

Professional Fitness Model and Celebrity Trainer

Super Star

Sought after Motivational Speaker, Recording Artist,...

Angelita Salado

Latin Mental Health Counselor

Tracy Lewis

Christian Author, Speaker, and Teacher

suzann robins
Steve Nicander

Health Activist, Writer, Wellness Coach, Inspiration

John Meluso

The World's only,Human Bridge, "Connect and Grow Wea...

Hypnotist The Incredible BORIS

Award-winning Motivational Hypnotist and Keynote Spe...

Jessica Cox

World's First Armless Pilot & First Armless Black-Be...
More like Judy