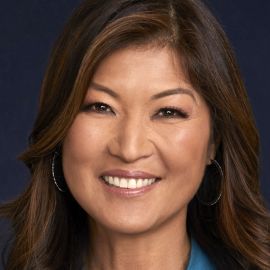 Juju Chang is an Emmy Award-winning co-anchor of ABC News' "Nightline." She also reports regularly for "Good Morning America" and "20/20."
Chang has been recognized for her in-depth personal narratives set against the backdrop of pressing national and international news. Her exclusive television interview with transgender solider Chelsea Manning, after seven years in prison, explored issues of national security leaks and LGBTQ military service. Her profile of former firefighter Pat Hardison – after a groundbreaking face transplant – highlighted the crisis of organ donation. She also interviewed transgender teen Jazz Jennings and her journey towards getting gender confirmation surgery and advocacy for other young transgender people. Additionally, Chang anchored a special edition of "Nightline," "Consent on Campus," from Penn State which tackled complex issues surrounding sexual assault.
Chang has also covered major breaking news for decades for ABC News, including Superstorm Sandy, the Orlando nightclub massacre and the Boston Marathon bombing. She has traveled around the world to report on global issues including a three-country trip through Central Africa on the front lines against Boko Haram in the latest on #bringbackourgirls, and to Honduras for "Femicide: the Untold War," an eye-opening look at rampant violence against women.
Chang has profiled newsmakers like Facebook COO Sheryl Sandberg, former Vice President Joe Biden and Oprah Winfrey as well as entertainers like Chris Pratt, Channing Tatum, Nicki Minaj, and Bella Thorne. Her extensive feature reporting covers parenting dilemmas, digital addictions and social media moguls like Dude Perfect and Esther the Wonder Pig.
A former news anchor for "Good Morning America," Chang joined ABC News as an entry level desk assistant in 1987 and rose to become a producer for "World News Tonight." Her first on-air job was reporting for KGO-TV in San Francisco. After a year in Washington, D.C. covering the White House, Capitol Hill and the presidential election for NewsOne, she co-anchored the overnight show "World News Now." Chang's work has been recognized with numerous awards including multiple Emmy's, Gracie's, a DuPont, a Murrow and Peabody awards. In 2017, she was honored with the Lifetime Achievement Award at the Front Page Awards.
Born in Seoul, South Korea and raised in Northern California, Chang graduated with honors from Stanford University with a B.A. in political science and communication. She is married to WNET President and CEO Neal Shapiro and together they have three sons. Chang is a member of the Council on Foreign Relations and a founding board member of the Korean American Community Foundation.
Speech Topics
---
Confidence Gap
Minorities, not just women, suffer from the "confidence gap." Juju Chang outlines the sociological data which repeatedly shows that "sterotype threats" can cause women and minorities to underperform: from stereotypes about dumb jocks to the myth of Asian-Americans as model minorities and more. There is a persistent, subtle stero-typing which continues to impact women and minorities in the workplace and beyond. Chang teaches audiences how to combat this phenomenon and erase these stereotypes once and for all.
Diversity: The Juju Chang Story
Juju Chang shares her personal and inspiring journey from struggling immigrant to Emmy Award-winning network anchor. Chang's belief as a journalist in the power of story-telling has shaped her perspective on the news she delivers today. Born in Seoul and raised in California, Chang's personal experiences in the field covering wars, plane crashes, hurricanes, epidemics, addictions and national politics are all told with the personal backdrop of growing up a Korean immigrant in America.
Raising Multi-Cultural Kids in a Digital Age
Raising children from different backgrounds in a digital world may not be as difficult as it seems, according to television journalist Juju Chang. She shares with audiences her adventures in raising bi-racial, multi-cultural and interfaith kids. With three sons having both Buddhist and Jewish grandparents, Chang has learned through personal experience how to raise them to be responsible and safe on the internet. With collective wisdom having profiled the "Tiger Mom," Real Housewives Moms, the blogger "Scary Mom," the "Free-range" Mom and even to the Dad who wrote the Secrets of Happy Families, Chang offers insights to parents and others about the ever-changing digital age we live in today.
The Splintering of Mass Media
Network News: Relevant or Not?
Asian Americans: The Myth of the Model Minority
Related Speakers View all
---
Maria Hinojosa

Award-Winning News and Investigative Journalist; Hos...

Geena Rocero

Transgender Model & Advocate; Founder of Gender Proud

Sheryl WuDunn

Pulitzer Prize-Winning Journalist; Co-author of Half...

Elizabeth Vargas

Emmy Award-Winning Journalist; Best-Selling Author; ...

Andrea Mitchell

Award-Winning Chief Foreign Affairs Correspondent at...

Shannon Miller

Olympic Gold Medalist, Health Advocate & Cancer Surv...

Juan Williams

New York Times Best-Selling Author, Fox News Politic...

Erin Gruwell

Founder & Executive Director of the Freedom Writers ...

America Ferrera

Award-Winning Actress, Producer & Humanitarian

Donna Brazile

Veteran Political Strategist, Bestselling Author, Fo...

Shane Ortega

The US Army's First Openly Trans Soldier

Hoda Kotb

Broadcast Journalist, Television Personality, Author...

Rosario Marin

Former Treasurer of the United States

Star Jones

Former Co-Host of "The View", Social Justice & Heart...

Charlayne Hunter-Gault

Award-Winning Journalist

Nikki Giovanni

Poet, Educator & Best-Selling Author

Majora Carter

Real Estate Developer, Peabody Award-Winning Broadca...

Carmen Wong Ulrich

Personal Finance Expert

Dr. M. Joycelyn Elders

Former Surgeon General of the United States

Malaak Compton

Activist & Philanthropist
More like Juju