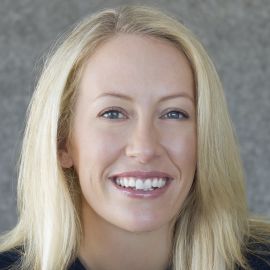 In 2006, Julia left her career as a television development executive to start a technology company focused on bringing the world together through live experiences. Not only did she take this plunge with her two co-founders, but they also decided to forgo salaries and bootstrap the company with their own money. As the Co-Founder and President of the global ticketing company Eventbrite, Julia helped to turn this ill-advised by many decision into a burgeoning success story.
With a focus on strategy and growth for the company that has processed more than $2 billion in gross ticket sales for organizers in 183 countries, Julia is responsible for building, evolving and sustaining Eventbrite's growing team of 300 "Britelings" and award-winning company culture (voted Best Places to Work in the San Francisco Bay Area four years running).
Prior to co-founding Eventbrite, Julia worked at MTV and was lucky enough to be on the team that discovered Jackass. After MTV, Julia enjoyed a career at FX Networks on the series development team which put Nip/Tuck, The Shield, and Rescue Me on the air. Julia graduated from Pepperdine University with a degree in Telecommunications.