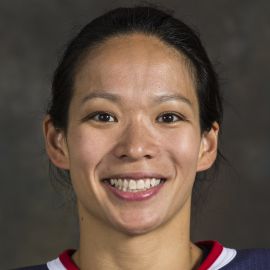 Julie Chu is an American Olympic ice hockey player who plays the position of forward on the United States women's ice hockey team and the position of defense on the Montreal Stars.
Although Chu's hometown is Fairfield, Connecticut, she resided in Cambridge, Massachusetts, during her college years while playing hockey for Harvard University from 2002–2007. She graduated with a Bachelor of Arts degree in psychology. Prior to attending Harvard, Chu resided in Lake Placid, New York, for a short time and attended Northwood School (Lake Placid, New York) while training for the 2002 Winter Olympics in Salt Lake City, Utah. In 2007–08 she was an assistant coach alongside Canadian Olympic ice hockey player Caroline Ouellette for the University of Minnesota Duluth and helped the Bulldogs women's ice hockey team win their fourth NCAA Division I national championship. In 2010–2011 hockey season, she joined the Union College Women's Hockey Team's coaching staff, serving as assistant coach. She stepped down after the 2012-2013 season to focus full-time on training for the 2014 Winter Olympics in Sochi, Russia.
Three-time Olympic medalist, four-time World Championship gold medalist, three-time World Championship silver medalist and two-time Clarkson Cup Champion, Chen, nicknamed Chuey, started playing hockey at the age of 8 after an unsuccessful attempt at figure skating. One of the most exciting moments of her hockey career was experiencing her first Olympic Games in Salt Lake City at the age of 19 years.