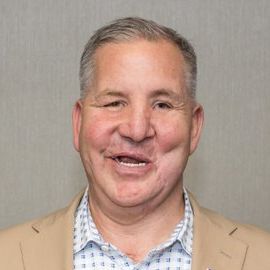 Justin Constantine
Nationally Renowned Leader in the Wounded Warrior Community; Chief Business Development Officer at JobPath Partners
Justin Constantine is a former Marine and attorney and is now an inspirational speaker and leadership consultant. He is also the Chief Business Development Officer at JobPath, an incredibly robust veteran and military spouse employment platform that attracts over 24,000 new users every month and has over 200,000 users currently using its wide variety of resources.
He recently published his first book, "My Battlefield, Your Office, Leadership Lessons From the Front Lines," which focuses on teaching mid-level managers how to lead people. Constantine is also a Presidential Leadership Scholar, a member of the Goldman Sachs 10,000 Small Businesses Program, and a Senior Advisor at the US Chamber of Commerce Foundation focused on veteran employment.
Constantine deployed to Iraq in 2006, serving as a Civil Affairs Team Leader while attached to an infantry battalion. During a combat patrol, Constantine was shot in the head by a sniper. Although the original prognosis was that he had been killed in action, Constantine survived thanks to risks taken by his fellow Marines and a courageous Navy Corpsman. For his service in Iraq, he earned the Purple Heart Medal, Combat Action Ribbon and Navy-Marine Corps Commendation Medal.
After recovering from his injuries, Constantine worked at the U.S. Department of Justice and as Counsel for the Senate Veterans' Affairs Committee. More recently, he worked for several years with the FBI as an attorney on a counterterrorism team. Constantine was the Honor Graduate of his class at the Marine Corps Command and Staff College, and in 2011 the Secretary of Defense appointed him to a four-year term on the Task Force for Recovering Warriors. In 2015 he graduated on the Dean's List from Georgetown University with a Master of Laws degree focusing on National Security.
Constantine retired from the Marine Corps with the rank of Lieutenant Colonel. His writing on military and leadership issues has been featured in such outlets as CNN, Time, the Washington Post, The Atlantic, Forbes magazine, USA Today, Business Insider, Stars and Stripes and the Huffington Post. Last year, Constantine also co-founded the Veteran Success Resource Group, a military nonprofit organization that provides personalized networking opportunities for motivated veterans. He serves on the board of directors of several national military nonprofit organizations.
In 2012 the Virginia Legislature passed a commending resolution highlighting Constantine's continued support of veterans and other wounded warriors. Constantine has been named a Champion of Change by the White House, and also was awarded the prestigious inaugural 2014 Lincoln Award recognizing his outstanding achievement and excellence in providing opportunities and support to our nation's veterans and military families.
Videos
---
Speech Topics
---
OFFICERS EAT LAST
After 16 years in the Marine Corps, Justin certainly understands the value and challenges of effective leadership. Not many lawyers have the opportunity to lead Marines in combat, but Justin has done just that, and much more. As he details, taking care of your people has to be your number one priority – this is true in any organization. Further, a leader's ability to convince his/her people – through actions, not words – that he/she truly cares for them fosters fierce loyalty and an unwavering willingness to follow. Justin's lessons related to successful Marine Corps leadership principles apply directly to any corporation focused on winning in today's market.
INSPIRATIONAL LIFE
Justin was shot in the head in Iraq, and when Corpsman George Grant rolled Justin over, he was no longer breathing. So Justin knows that life can be difficult and full of challenges, but believes that life is also beautiful, precious and something we should celebrate, not just "get through." Justin chooses the glass to be half full, not half empty, and to live life in the future, not the past. We are not defined by the obstacles we have faced, but what he have accomplished in spite of them. Justin will inspire any audience, and shows that through inner strength, humility and a victorious spirit we can each overcome the toughest obstacles.
THE POWER OF CHANGE
Whether in your personal or professional life, nothing remains constant. We are all continually changing, adapting and evolving. With one bullet, Justin's life changed drastically and by all objective measures he should not have survived to be here today. Justin will demonstrate how to embrace change, that change is good, and with the right attitude we can each find a way to succeed in the midst of change.
TAKE LIFE BY THE REINS
Justin shares his life's lessons to prepare his audiences for the journey that lies ahead, motivating students to truly succeed and support others around them.He describes the power of the human spirit and challenges today's graduates to use their time wisely, be active in their communities and care for others. This is an experience for both the students and their families; all will leave inspired and excited for the future.
The Power of Change
Life changes, for better or worse – it depends how you look at it. You can choose the glass to be half full, not half empty, and to embrace change. Through inner strength, humility and a victorious spirit we can each overcome the toughest obstacles.
Teamwork is Critical for Success
Teamwork under the most demanding conditions is exactly what saved Justin's life. The teamwork shared by Justin and his wife was the cornerstone of his successful recovery. Just like in the Marine Corps, teamwork starts with the smallest unit and grows to the entire organization.
You Are Stronger Than You Think You Are
We have all bounced back from hard times, and we have all proven to ourselves that our spirit is stronger than anything that could threaten to break it. Life can be very difficult, and we all face challenges. Life is also sweet, precious and something we should treasure, not just get through. Similar to Justin's story of recovery, there are opportunities for you to lead from the front, both at work and in your communities.
It's OK to Ask for Help!
We all enjoy helping other people, and that is the type of response you will receive when you ask for help. There is no reason for any of us to walk around dealing with significant issues by ourselves when help is only a conversation away. Asking for help is not a sign of weakness, but actually displays maturity, strength and confidence.
Related Speakers View all
---
Noah Galloway

U.S. Army Veteran, Amputee & Finalist on "Dancing Wi...

Becky Halstead

First Female Graduate of West Point to Reach General

William Wagasy

Special Operations Chief for the U.S. Navy, Former L...

Rob Waldo Waldman

Decorated Fighter Pilot; Power of Relationships & Tr...

Shoshana Johnson

First African American Woman POW in U.S. War History

Tee Marie Hanible

Philanthropist, Entrepreneur & U.S. Marine

Mark Geist

Co Author of "13 Hours", Member of Benghazi Annex Se...

Melissa Stockwell

First Lieutenant (Retired) & Three-Time Paratriathlo...

Rye Barcott

Co-Founder & CEO of With Honor, Veteran and Author o...

J.R. Martinez

Actor, Best-Selling Author, Motivational Speaker, Ad...

Rocky Bleier

Former NFL Football Player, Wounded Vietnam Veteran ...

Eric Eversole

President at Hiring Our Heroes

Michele Rigby Assad

Former C.I.A. Agent, Counterterrorism Specialist & A...

Brent Gleeson

CEO of TakingPoint Leadership, Navy SEAL Combat Vete...

David Rutherford

Motivational Speaker, Former Navy SEAL Medic & Behav...

Leanne Caret

President and CEO of Defense, Space & Security; Exec...

Steve Pieczenik, MD, PhD

Psychiatrist, Author and Expert on National Security

Sebastian Gorka

National Security Strategist, Author, & Former Deput...

Israel Del Toro Jr.

First 100 Percent Combat-Disabled Active-Duty Air Fo...

Ed Hiner

Retired U.S. Navy SEAL, Best-Selling Author & Leader...
More like Justin