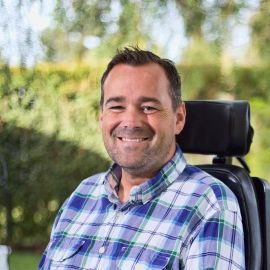 Justin Skeesuck
Also Known As "The Disabled Traveler," World Traveler, Entrepreneur and Inspirational Adventurer
Justin Skeesuck is known as "The Disabled Traveler." He encourages and instructs people with disabilities how to successfully navigate and overcome the many challenges they are faced with in their everyday lives and when traveling.
Additionally, Skeesuck is one of the world's foremost accessibility and marketing consultants, providing organizations with insight to uniquely position themselves to not only capture but also greatly serve the disabled community.
When on stage, Skeesuck provides authentic and powerful storytelling, which gives insight into what it's like to live life with a terminal, progressive neuromuscular disease. His experiences provide organizations with a much-needed perspective on how they can better serve those with disabilities. Addressing everything from etiquette to increased access, he empowers individuals and organizations to position themselves in a way that will increase their reach into the disabled community.
Skeesuck has been featured and interviewed on NBC, ABC, Fox & Friends, The Huffington Post, the Daily Mail, People.com and the MDA Telethon, and most recently gave a TEDx Talk.
Most recently, Skeesuck successfully completed The Way of St. James, more commonly known as the Camino de Santiago—a 500-mile epic pilgrimage across the vast terrain of northern Spain, in a specialized wheelchair. His lifelong best friend, Patrick Gray, along with many other friends, acquaintances and even strangers, pushed Justin for 34 days over mountains, through rivers and even across a desert called the Meseta.
Skeesuck's journey began in his teenage years when a disease was unknowingly "triggered" after he survived a rollover car accident. At the age of 18, his condition worsened and required foot orthotics to aid him while walking. In his mid-20s, he began using a cane, then a walker and eventually a power wheelchair. By 2010, the disease rapidly progressed to his hands, arms and shoulders. It was at this point when life became immensely difficult for him.
Doctors were baffled for many years, and after extensive testing, Skeesuck was finally diagnosed with a rare progressive autoimmune/neuromuscular disease called Multifocal Acquired Motor Axonopathy or "MAMA" for short.
MAMA is similar in nature to how Lou Gehrig's disease (ALS) progresses by selectively targeting muscles throughout the body, which for unknown reasons cease to function properly. As of today, the disease continues to greatly impact Skeesuck's life, and as it progresses over time, he will require many adjustments to function daily.
Despite his limitations, Skeesuck has dedicated his life to traveling the world, working with organizations that are also passionate about helping the disabled community, and sharing his life experiences with those who will listen.
Skeesuck currently lives in the Boise, Idaho area with his phenomenal wife, Kirstin and their beautiful children Jaden, Noah and Lauren.
Speech Topics
---
Marketing to People with Disabilities: A $13 Billion Opportunity
The disabled community is one of the fastest growing and untapped minority groups in the world. With 56 million (and growing) disabled individuals within the United States alone, this is a market that is remarkably underserved and undervalued. Justin draws on his 20 plus years of experience in branding, strategic marketing and design; as well as his many years of living with a disability. His insights and strategies will help you and your organization learn how to reach persons with disabilities in your marketing, increasing your client base as well as you customer loyalty, while providing goodwill and value.
Creating Greater Accessibility Through Thoughtful Design: Going Above and Beyond ADA
Accessibility is a very broad term. Many organizations may be ADA compliant, but not all ADA compliant facilities are created equal. Join Justin as he explores the myriad of ways organizations can go above and beyond ADA standards in the design and execution of facilities. Whether entryways or hallways, cafeterias or restrooms and beyond, there are many pitfalls in design that present challenges for persons with disabilities, while still meeting ADA requirements. Justin will help you identify these pitfalls and explore functional alternatives, while providing strategies minimizing additional cost.
Leading Through Vulnerability: Achieving Limitless Potential
Everyone has dreams that they long to fulfill, but many doubt they have the ability to see them come to fruition. No one has realized greatness on his or her own, and no one knows this better than Justin Skeesuck. Hear how he has achieved so many of his dreams through those that have surrounded him and how leadership through vulnerability can help your organization effectively engage your team members and customers.
Disability Etiquette: How to Effectively Interact with Your Customers with Disabilities…Without Offending Them
"Disability Etiquette" is a term describing guidelines dealing specifically with how to approach and talk to people with disabilities. Frequently there is apprehension when businesses and organizations engage with disabled patrons. Equip yourself with the knowledge that you and your employees need to create the best possible experience for your disabled customers. Learn what to say and do, as well as what to avoid. Justin will provide you with tips and strategies that will make you stand out from your competitors.
Related Speakers View all
---
Robert Kriegel

Expert in Sports & Performance Psychology

Tim Sanders

Bestselling Author, Technology Pioneer, Expert on Co...

Howard Putnam

Former CEO of Southwest Airlines

Mark Victor Hansen

Founder & Author of Chicken Soup for the Soul Book S...

Ryan Estis

Business Performance Expert & Agent of Change

Dr. Sheila Murray Bethel

Global Leadership, Change, Motivation Expert; Author...

Alden Mills

Former Navy SEAL Platoon Commander, Author, Founder ...

Grant D. Fairley

Inspirational Speaker and Teacher, Executive Coach &...

Chad Hymas

World-Class Wheelchair Athlete & Best-Selling Author

Vince Poscente

Former Olympic Speed Skier, Leadership & Sales Exper...

Eileen McDargh, CSP, CPAE

Healthcare Consultant & Author of "The Resilent Spirit"

Sam Geist

Consultant / Facilitator

Dan Clark

Master Motivator, CEO, New York Times Bestseller & M...

Stacy Allison

Businesswoman, Adventurer, Author & Motivational Spe...

Mike Abrashoff

Former Commander of USS Benfold & Author of "It's Yo...

Reb Rebele

Researcher for Wharton People Analytics, University ...

Tim Rooney

Helping Businesses Grow Profitably and Maintain a Wi...

Allison Massari

Executive Coach, Entrepreneur, Visual Artist & Burn ...

Josh Linkner

Five-Time Tech entrepreneur, Hyper-Growth CEO, New Y...

Troy Hazard

Troy Hazard is the recent Global President of the el...
More like Justin