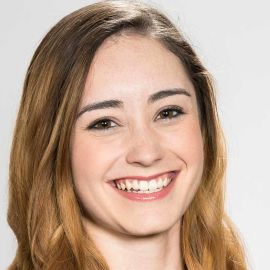 Kaetlyn Osmond
Canadian Figure Skater, 2018 World Champion, 2018 Olympic Gold & Bronze Medalist, 3x Canadian Champion
The newest star of Canadian ladies' figure skating, Kaetlyn Osmond was almost a complete unknown to the world when she won gold at her first senior ISU Grand Prix event, Skate Canada International, in October 2012. Less than a year and a half later she was an Olympic silver medallist, helping Canada finish second overall in the inaugural team event at Sochi 2014. She also finished 13th in the ladies' event.
As a junior competitor, Osmond finished sixth at the 2011 Canadian Championships, dropping from third a year earlier. But she had a quick rise upon moving to the senior level. She won the Skate Canada Challenge, the qualifying competition for the 2012 Canadian Championships. At nationals, she won the short program en route to claiming the bronze medal. She was sent to the 2012 World Junior Championships where she finished 10th.
Osmond's senior international career got off to a stellar start when she won the 2012 Nebelhorn Trophy, defeating future Olympic champion Adelina Sotnikova of Russia. Osmond's consistency throughout the season made her the gold medal favourite at the 2013 Canadian Championships. She won it handily, beating her closest competitor by more than 37 points. Osmond was Canada's lone entry at the 2013 World Championships in London, Ontario. Aiming for a top-10 result, she placed a surprising fourth in the short program and ended up eighth overall, earning Canada two Olympic berths for Sochi 2014. Osmond withdrew from both of her Grand Prix events in the fall of 2013 due to a hamstring injury, but returned to win her second national title in January 2014.