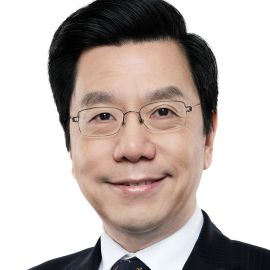 Dr. Kai-Fu Lee is the Chairman and CEO of Sinovation Ventures and President of Sinovation Venture's Artificial Intelligence Institute. Sinovation Ventures, managing US$2 billion dual currency investment funds, is a leading venture capital firm focusing on developing the next generation of Chinese high-tech companies. Prior to founding Sinovation in 2009, Dr. Lee was the President of Google China. Previously, he held executive positions at Microsoft, SGI, and Apple. Dr. Lee received his Bachelor degree from Computer Science from Columbia University, Ph.D. from Carnegie Mellon University, as well as Honorary Doctorate Degrees from both Carnegie Mellon and the City University of Hong Kong. He is a Fellow of the Institute of Electrical and Electronics Engineers (IEEE), Times 100 in 2013, WIRED 25 Icons , Asian Business Leader 2018 by Asia House, and followed by over 50 million audience on social media.
In the field of artificial intelligence, Dr. Lee built one of the first game playing programs to defeat a world champion (1988, Othello), as well as the world's first large-vocabulary, speaker-independent continuous speech recognition system. Dr. Lee founded Microsoft Research China, which was named as the hottest research lab by MIT Technology Review. Later renamed Microsoft Research Asia, this institute trained the great majority of AI leaders in China, including CTOs or AI heads at Baidu, Tencent, Alibaba, Lenovo, Huawei, and Haier. While with Apple, Dr. Lee led AI projects in speech and natural language, which have been featured on Good Morning America on ABC Television and the front page of Wall Street Journal. He has authored 10 U.S. patents, and more than 100 journal and conference papers. Altogether, Dr. Lee has been in artificial intelligence research, development, and investment for more than 30 years. His New York Time and Wall Street Journal bestselling book AI Superpowers discusses US-China co-leadership in the age of AI as well as the greater societal impacts brought upon by the AI technology revolution.
Books
---
Related Speakers View all
---
R "Ray" Wang

Founder, Chairman & Principal Analyst at Constellati...

Dr. Michio Kaku

World-Renowned Futurist & Theoretical Physicist

Ray Kurzweil

Chairman of Kurzweil Technologies; Inventor; Futurist

Peter Diamandis

Founder & Executive Chairman of the XPRIZE Foundatio...

Dr. Anthony Fauci

Director, National Institute of Allergy and Infectio...

Nicholas Burns

Professor of the Practice of Diplomacy & Internation...

Andrea Mitchell

Award-Winning Chief Foreign Affairs Correspondent at...

Marla Blow

Senior Vice President of Mastercard Center for Inclu...

Michael Eric Dyson

MSNBC Political Analyst, Former Host of NPR's "The M...

Darren Walker

President of the Ford Foundation; Chair of the US Al...

Max Tegmark

Cosmic Explorer & MIT Professor of Physics

Lakshmi Karan

Executive Director, Genentech Foundation and Directo...

Anna Deavere Smith

Award-Winning Actress, Playwright, Social Commentator

Dan Porterfield

President & CEO of the Aspen Institute; Advocate for...

Lulu Miller

Co-host of NPR Podcast Invisibilia

Joy-Ann Reid

MSNBC Correspondent, Political Author & Former Host ...

John Rossman

Former Amazon Executive, Author & Expert on Digital ...

Maria A. Ressa

CEO & Founder of Rappler, Investigative Journalist, ...

Phumzile Mlambo-Ngcuka

Under-Secretary-General & Executive Director of UN W...

Lynsey Addario

American Photojournalist; Contributor for National G...
More like Kai-Fu