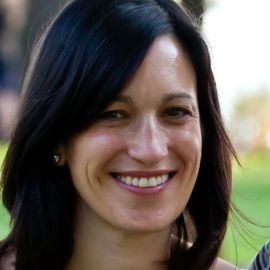 Karen Alpert is best known for her hilarious and honest blog "Baby Sideburns." She took the internet by storm when she grew her readership from 170 people to 150,000 readers in just one year.
In 2013 she self-published her first book, "I Heart My Little A-Holes," which reached Amazon's Top 100 and became a New York Times bestseller the first week it was out. It was then picked up by HarperCollins and will be re-released in April 2014.
Karen is a writer for NickMom and her writing has been featured on Fast Company, Parents.com, Inside Edition and Southern California Public Radio. Her blog also won first place in the Cirle of Moms Family Blog competition 2012 and 2013, as well as first place in the Circle of Moms Funny Moms competition 2013.
Videos
---