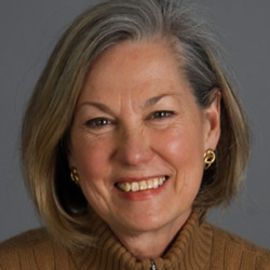 Karen Elliott House
Pulitzer Prize-Winning Journalist, Former Managing Editor at The Wall Street Journal & Author of "On Saudi Arabia"
Karen Elliott House, 69, retired in March 2006 as Publisher of The Wall Street Journal, Senior Vice President of Dow Jones & Company, and a member of the company's executive committee. She is a broadly experienced business executive with particular expertise and experience in international affairs stemming from a distinguished career as a Pulitzer Prize winning reporter and editor.
She is Chairman of the Board of the RAND Corp. and author of On Saudi Arabia: Its People, Past, Religious, Fault Lines—and Future, published by Knopf in 2012. She also is a Senior Fellow at the Belfer Center for Science and International Affairs at Harvard's Kennedy School of Government and has taught Mideast politics at Pepperdine University's School of Public Policy for the past two years.
Ms. House served as publisher from 2002 until her retirement and in that role was responsible for all news, editorial, sales and other business functions of The Wall Street Journal and its editions around the world. From 1989 to 2002 she served as vice president international and then president international of Dow Jones, responsible for The Wall Street Journal's print editions in Asia and Europe as well as for magazine and television ventures overseas.
During a 32-year career with Dow Jones and The Wall Street Journal, Ms. House also served as foreign editor, diplomatic correspondent, and energy correspondent based in Washington D.C. Her journalism awards include a Pulitzer Prize for international reporting for coverage of the Middle East (1984), two Overseas Press Club awards for coverage of the Middle East and of Islam and the Edwin M. Hood award for Excellence in Diplomatic Reporting for a series on Saudi Arabia (1982). She has interviewed numerous world leaders including Vladimir Putin, Zhu Rongji, Saddam Hussein, Benjamin Natanyahu, King Salman of Saudi Arabia and the late King Hussein of Jordan and Yassir Arafat.
She has served and continues to serve on multiple non-profit boards including the Trilateral Commission, the Council on Foreign Relations, the Asia Society, and Boston University. She also is a member of the advisory board of the College of Communication at the University of Texas.
She is a graduate of the University of Texas at Austin where in 1996 she was the recipient of the University's "Distinguished Alumnus" award. She studied and taught at Harvard University's Institute of Politics and she holds honorary degrees from Boston University (2003) and Lafayette College (1992). Ms. House is married and is the mother of four children ages 21-42.
Videos
---
Speech Topics
---
Saudi Royal Succession
The string of Al Saud brothers who have ruled Saudi Arabia since the death of their father, King Abdulaziz al Saud, in 1953 is nearing its end. The monarchy in Saudi Arabia passes not from father to son but since King Abdulaziz, who fathered 44 sons, from brother to brother. The current king is 90 years old and his crown prince is 76; their youngest brother is already 69. So the kingdom, facing external threats (Iran, Syria, instability in Bahrain) and internal threats (deep divisions by region, tribe, gender and religious sect) can't expect capable young leadership anytime soon as the extended Al Saud family of some 7000 princes can't agree on a third-generation prince who might have the vision and vigor to lead the kingdom through needed reforms. So, while the senior royals dodder on, the kingdom's divisions deepen, the population's frustrations grow and risks of instability rise. Saudis watch the diminishing line of Al saud princes as if it were an old-fashioned timebomb with a lit fuse. The wick burns ever shorter, advancing a moment of explosion that could the kingdom as we have known it.
Diversity and Division
Beneath the facade of total uniformity presented by Saudi society–women shrouded in black, men robed in white–there is surprising diversity and deep division. In a country where the regime has controlled people through divide-and-conquer tactics, dollars and duplicity, transparency made possible by I andnternet and social media is lifting the veil on these tactics, revealing deep divisions among regions, tribes, and sexes; between rulers and ruled; between young and old; between modernizers and traditionalists. As the regime tries to accomodate some of the pressures for change, the backlash against any change from Islamic fundamentalists grows ever stronger, raising doubt whether an elderly and infirm band of rulers can continue to control a country where 60% of the population is under 20 years of age, and where most Saudi men do not want to work at jobs they are qualified for and women are not permitted to work at jobs for which they are qualified.
Subjugated Women Drive Change
Strict Wahhabi Islam teaches that a man must obey Allah and a woman must obey man, meaning that Saudi women must always be obedient to a male relative–father, husband, brother, son. There is no age of maturity and independence for a Saudi woman. A growing number of Saudi women (women comprise 60% of university graduates) now are pushing back–confronting the so-called religious police, daring to drive, something illegal for a Saudi woman, and increasingly divorcing men who abuse them. Armed with verses from the Koran indicating equality in Allah's eyes between men and women, Saudi women are increasingly leading society's efforts for change–a more equitable society for all Saudis, including women.
Saudi Arabia's Importance in the Middle East
In the increasingly unstable mideast, Saudi Arabia is the most important Arab nation–and the least understood. Why should the world care about this shrouded kingdom? Because it is the world's leading exporter of oil, the lifeblood of global prosperity, and of Islamic terrorism, perhaps the greatest threat to world peace. Yet because the kingdom's royal family shrouds its secrets from both Saudis and foreigners and makes it difficult for all but the very intrepid to explore the kingdom, it remains all too impenetrable, which is exactly how the Al Saud rulers like it. Conventional wisdom holds that the kingdom remains stable in a region of rising instability even as power passes from one geriatric leader to the next. Yet, recall that the old Soviet Union, too, was viewed as rock-solid as power passed rapidly from one old man to the next upon the death of Brezhnev. Within a decade, the Soviet superpower imploded. Does history hold a lesson here for those who equate stagnation with stability. stability.
Related Speakers View all
---
Adaora Udoji

CEO & Founder of outLoud Inc., Angel Investor and Fo...

Terry Savage

Personal Finance Expert, Investment Advisor, Syndica...

Andrea Mitchell

Award-Winning Chief Foreign Affairs Correspondent at...

Katty Kay

Anchor on BBC World News America; Co-Author of "Wome...

Monica Lewinsky

Social Activist; Expert on Cyberbullying, Women's Is...

Shiza Shahid

Entrepreneur, Technologist, Investor, Impact Leader ...

Marilyn Tam

Best-Selling Author, Consultant, Board Certified Exe...

Jodi Kantor

Pulitzer-Prize Winning Journalist & Author

Carla Harris

Vice Chairman, Managing Director and Senior Client A...

Fran Hauser

Media Executive, Startup Investor & Best-Selling Aut...

Jan Fields

Former President of McDonald's USA & Chairman of the...

Asra Nomani

Journalist & Author, Women's Rights Activist

Donna Brazile

Veteran Political Strategist, Bestselling Author, Fo...

Sallie Krawcheck

Founder & CEO of Ellevest; Author of "Own It: The Po...

Jennifer Hyman

Co-Founder & CEO of Rent the Runway; Award-Winning E...

Randi Zuckerberg

CEO & Founder of Zuckerberg Media; Bestselling Autho...

Nina Easton

Chair of Fortune Most Powerful Women International; ...

Robin Wright

Award-Winning Journalist & Author

Shirin Ebadi

Nobel Peace Prize-Winning Iranian Activist & Lawyer

Sheryl WuDunn

Pulitzer Prize-Winning Journalist; Co-author of Half...
More like Karen