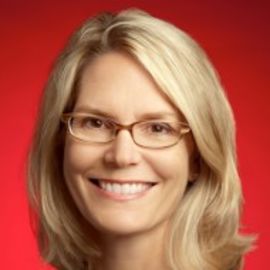 Karen May
Vice President, Learning, Google
With more than 20 years of professional experience as an organizational psychologist and leadership coach, Karen joined Google in 2010 to head up the company's learning, talent and career development programs. Karen oversees a global team that supports more than 34,000 Googlers in more than 70 offices in over 40 countries. The team implements a broad range of developmental offerings, including executive coaching, new hire onboarding, leadership development and peer-to-peer instruction for Googlers of all levels, regions and tenure.
Karen works to ensure that much of Google's learning curriculum is built in the spirit of our innovative products, utilizing our technology and putting the user first. Under her leadership, many courses are collaborative, interactive and integrated with social media and gaming components. Googlers can often design the training pace that works best for them–whether it be mobile phone mini-quizzes for those who are on the go, or sequential online modules for linear learners.
Prior to Google, Karen was twice at the helm of management consulting firms she helped found and build. As the president and owner of RedFish Consulting and principal and co-founder of Terranova Consulting Group, Karen consulted for Fortune 100 companies, including Google for several years. Her services across the public, private, and nonprofit sectors spanned strategic planning, executive coaching, leadership development, conflict resolution and change management.
She earned her M.A. and Ph.D. in industrial and organizational psychology at U.C. Berkeley and received her B.A. in psychology from Mills College. Karen is also an active community leader; she is currently a member of the Mills College Board of Trustees, has served as the president of the Mills College Alumnae Association, and as president of the Oakland (CA) Police Foundation Board of Directors.
Karen regularly can be found hiking the hills of Marin County with her husband and two dogs.
Related Speakers View all
---
Susan Wojcicki

CEO of YouTube

Gloria Allred

Renowned Women's Rights Attorney; Subject of Netflix...

Brenda Louise Romero

Award-Winning Game Designer & Developer

Mina Bissell

Iranian-American Biologist; Known for her Research o...

Molly Crockett

Globetrotting Neuroscientist investigating altruism,...

Shama Hyder

CEO of The Marketing Zen Group

Mayim Bialik

Neuroscientist & Actress, Known For "The Big Bang Th...

Anousheh Ansari

CEO of X Prize Foundation & First Female Private Spa...

Kelly A. Galanis

The Red-Headed Diva is Kelly A. Galanis, Professiona...

Kristie Kennedy

Women's Worth & Wellness Expert, TEDx Audacious Lead...

Lynda Weinman

Co-founder, Lynda.com

Liz Funk

Author, Supergirls Speak Out

Bethanie Baynes

Founder, Breadwinning Women of the World; Director, ...

Dr. Monica F. Cox

Professor & Chair of the Department of Engineering E...

Stacy Brown-Philpot

CEO of TaskRabbit

Melissa Daimler

SVP, Talent Acquisition & Development at WeWork; for...

Lalita Ballesteros (Lauryn)

Sales/Marketing Expert, Blogger and Cultural Entrepr...

Sabine Heller

CEO of invitation only social community ASMALLWORLD...

Lori Cheek

Architect; Entrepreneur; Founder & CEO of Cheekd

Katherine Kuchenbecker

Assistant Professor in the Mechanical Engineering an...
More like Karen