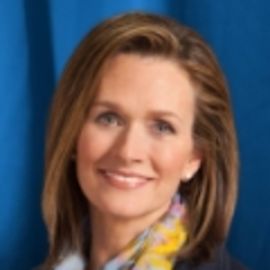 Karen Santorum
Wife of Former Presidential Candidate, Rick Santorum
Karen Santorum is the wife of former presidential candidate Senator Rick Santorum. They have seven wonderful children: Elizabeth, John, Daniel, Sarah Maria, Peter, Patrick, and Isabella.
Karen says the most important job, and one of the greatest joys in her life, is being a wife and mother. Her youngest child, Bella, was born with the genetic disorder Trisomy 18. Karen and Rick were told that it was "incompatible with life" and Bella was given no hope. Bella is now 4 years old and is a very joyful little girl at the center of their family life. Her smile, laughter, and silliness remind all of us that Bella is full of life! Karen is passionate about seeing that Bella, and all people with special needs, are treated with dignity and respect. Karen is a huge advocate for people with disabilities.
Karen is a neonatal intensive care nurse, an attorney, a speaker, and an author. Karen received her Bachelor of Science in Nursing degree from Duquesne University in Pittsburgh, Pennsylvania, and worked for several years in a Neonatal Intensive Care Unit. Her Juris Doctorate degree is from the University of Pittsburgh School of Law, where she was a Law Review member. She is the author of the acclaimed books, Letters to Gabriel and Everyday Graces.
Karen and Rick have dedicated their lives to public service. Karen was very active in her husband's impressive presidential campaign where they won 11 states and received over 3.5 million votes. Karen spoke at campaign events all over the country, and was one of her husband's top advisors. She did numerous national interviews including: CNN Pier's Morgan, The Mike Huckabee Show, the CBS Morning Show, Glenn Beck TV, Café Moms with Frank Luntz, and numerous other interviews.
Related Speakers View all
---
Lisa Whelchel

Author, Founder of Momtime Ministries & Actress Know...

Janet Parshall

Motivational, Pro-Life Speaker, Moody Radio Talk Sho...

Leslie Leyland Fields

Women's Speaker, Author of The Spirit of Foods

Linda Mintle, Ph.D

"Doing Life Together"

Sheri Rose Shepherd

Best-selling Author, Speaker and Humorist

Kerri Pomarolli and Ron McGehee

Two Comics Walk Into A Church

Kerri Pomarolli

Stand-Up Comedian, Actress & Author

Karen Covell

Producer & Director of The Hollywood Prayer Network

Candace Cameron Bure

Women & Youth Speaker Best Known for Her Role on "Fu...

John Trent

Author, Speaker, & Relationship Expert

B.J. & Sheila Weber

Directors of The New York Fellowship

Newell and Colleen Cerak

Parents of Whitney Cerak

Michael O'Brien

Host of "Tour De Romance," Faith-Based Event for Mar...

Kathy Koch, Ph.D

Speaker, Teacher, Trainer, Parent Educator, & Author

Julie Ziglar Norman

Motivational Speaker and Author of "Growing Up Ziglar"

Sara Paulson Brummett

Recording Artist, Worship Leader, Songwriter, Speaker

Suzette Brawner

A conference and event speaker for school, church an...

Shelley Leith

Speaker, Author, Mother of 5, Director of Church Rel...

Shelley & Greg Leith

Speakers on marriage and raising 5 kids. Greg is the...

Patricia Hickman

Author and Bible Teacher
More like Karen