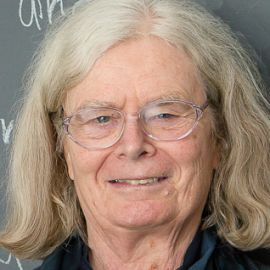 Karen Uhlenbeck is a mathematician and a founder of modern geometric analysis. She is a professor emeritus of mathematics at the University of Texas at Austin, where she held the Sid W. Richardson Foundation Regents Chair. She is currently a visiting associate at the Institute for Advanced Study and a visiting senior research scholar at Princeton University.
Uhlenbeck works primarily on geometric partial differential equations. She has worked in the areas of the calculus of variations, minimal surfaces, harmonic maps, gauge theory, and integrable systems. She is currently interested in flat complex connections and moduli spaces of geometric structures on complex connections.
She has taught at MIT, Berkeley, the University of Illinois in both Champaign-Urbana and Chicago, and since 1988 has held the Third Sid W. Richardson Foundation Regents' Chair in Mathematics at the University of Texas.
Uhlenbeck was a MacArthur Fellow in 1983, and has been elected to the American Academy of Arts and Sciences (1985) and the National Academy of Sciences (1986). On December 1, 2000, she received a National Medal of Science for "special recognition by reason of [her] outstanding contributions to knowledge" in the area of mathematics. She has also served as Vice-President of the American Mathematical Society. In 1990 she became only the second woman (after Emmy Noether in 1932) to give a Plenary Lecture at an International Congress of Mathematics.
She received the AMS Steele Prize for a Seminal Contribution to Mathematical Research for her foundational contributions in analytic aspects of mathematical gauge theory that appeared in two papers in the Communications in Mathematical Physics in 1982.
In 2019 Uhlenbeck became the first woman to win the prestigious Abel Prize in mathematics from the Norwegian Academy of Science.
Uhlenbeck graduated from the University of Michigan in 1964. She received her Ph.D. from Brandeis University in 1968 with a thesis on "The Calculus of Variations and Global Analysis."
Videos
---