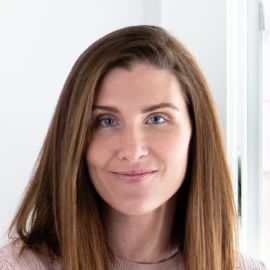 Kasey Crown
Psychotherapist, Wellness Educator & Writer
Kasey Crown, MA, MFT is a psychotherapist, wellness educator and writer. Her work challenges old mental health paradigms and suggests instead that true well-being lies in our ability to balance scientific and spiritual perspectives. For over a decade she has served as a facilitator of the healing process for adult individuals, couples, and groups working to upend trauma, transform emotional injury, repair relationship and unlock vital wisdom to connect people with who they truly are.
Kasey holds an undergraduate degree in philosophy and a master's degree in spiritual and counseling psychology. She completed a multiyear advanced clinical training in relational studies, is a California licensed marriage and family therapist and certified yoga teacher. Following a personal crisis in 2003, Kasey pursued a rigorous and transformational healing process that married energy healing principles derived from various wisdom traditions with intensive psychotherapy. Since that time, she has remained steadfast in her commitment to personal growth and to the service of others.
Kasey's first entry into the healing arts came when she was introduced to the work of Dr. Caroline Myss, a renowned medical intuitive, author and educator in the field of human consciousness, spirituality, mysticism and energy medicine. Moved by Caroline's certainty and her direct yet compassionate approach, Kasey followed her to India in 2005 to study energy anatomy, intuition, the universal law of co-creation and the ways in which biography influence biology. Kasey credits Caroline's work with having changed the course of her life, and it continues to play a crucial role in shaping her approach.
Upon her return to the states, Kasey enrolled in graduate school to pursue a degree in psychology and dive into clinical practice. Direct contact with individuals from a diverse set of backgrounds has been her true laboratory of learning. It has expanded her understanding of the human experience and increased her capacity for empathy, compassion, love, forgiveness and gratitude. Kasey has worked in both the non-profit and private practice settings. Her clinical work with adult individuals, couples and groups focuses on the treatment of trauma, healing relational and systemic issues and existential pain. She is influenced by various theoretical orientations including complex systems, relational gestalt, person-centered, humanistic, cognitive behavioral, somatic and spiritual psychology and energy medicine. Kasey also draws on the interdisciplinary field of Interpersonal Neurobiology.
In recent years, Kasey's attention has turned toward bridging the scientific and spiritual gap as a means to optimize the healing process. Having noticed a pattern in the way certain individuals compartmentalize their mental, emotional, physical, relational and spiritual health, she set out to educate clients about how a fragmented psyche and energy system dulls the human spirit and ruptures our basic sense of worth and belonging. By introducing clients and students to the science of integration and tools for healing trauma and repairing integration in the brain, the body and in relationships, Kasey points people toward individual and interpersonal harmony. Her work supports the cultivation of greater meaning and connection by tapping into our innate vitality and creativity.
In her workshops and educational material, Kasey introduces science that supports the healing power of presence and the interconnectivity of all systems. She presents mindfulness-based cognitive and energy healing tools that promote growth and healing and aid us in sharpening our intuitive reading skills. And she empowers clients and students with necessary information and guidance on how to harness the power of intention, attention, awareness and action as a formula for living our best life.
In addition to her work as a psychotherapist and educator, Kasey is committed to serving communities with limited access to support for healing. She served for several years as board development chair for the Los Angeles based non-profit community organization The Relational Center, working to ensure access to affordable mental health, community building and leadership training services for members of the Los Angeles community. She currently participates on the PS Arts Los Angeles board to provide and promote creativity in children as a necessary tool for healthy social and emotional development. Kasey's most important role is as wife and mother to her three strong, smart and beautiful daughters. Her primary goal is to contribute to a more loving, cooperative and compassionate world for them.
Related Speakers View all
---
Dr. Janet Taylor

Self Care & Wellness Activist and Psychiatrist

Lalah Delia

Spiritual Writer, Creative Wellness Educator & Found...

Kristie Kennedy

Women's Worth & Wellness Expert, TEDx Audacious Lead...

Dr. Elizabeth Degi Dubois, PhD

Certified Divorce Coach & Trauma Recovery Coach

Elaine Turner

Author of "Breaking The Glass Slipper"

Chidera Eggerue

Millennial Mastermind, Best-Selling Author & Activist

Kristin Neff

Co-Founder of the Center for Mindful Self-Compassion...

Richard J. Davidson

Professor of Psychology & Psychiatry at the Universi...

Liana Rosenman

Co-Founder & Chief Communications Officer of Project...

Jessica Cox

World's First Armless Pilot & First Armless Black-Be...

Montel Williams

Emmy Award-Winning Talk Show Host Best Known For "Th...

James S. Gordon, MD

Internationally Recognized Psychiatrist Specializing...

Saumya Dave

Writer, Psychiatrist & Mental Health Advocate

Richard M. Ryan, PhD

Leading Motivation Expert, Psychologist, Professor, ...

Heather Monahan

Author of "The Confidence Creator", Entrepreneur & F...

Bianca Juarez Olthoff

Best-Selling Author of "Play With Fire" & "How To Ha...

Laura Day

NY Times Best-Selling Author, Intuition Coach & Healer

Jennifer Freed

Psychological Astrologer, Psychotherapist & Author

Theresa Bowen Hatch

Trial Lawyer & Author

Stephanie McPhail

Transformational Life Coach
More like Kasey