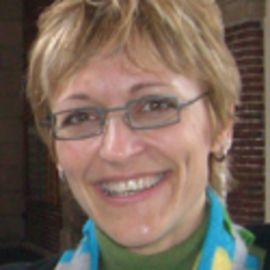 Kate Adamick
Kate Adamick, Principal of Food Systems Solutions LLC, is a New York City-based consultant specializing in integrating operational changes, site-based programming, and public-private partnerships to implement, reinforce and support the healthful transform
Through her Cook for America™ culinary boot camps, she provides concentrated and comprehensive culinary training that transforms America's school food service personnel into skilled and passionate "school lunch teachers."
Adamick is a frequent speaker on institutional food systems, sustainable agriculture, childhood obesity issues, and the economics of school food reform.
She is also the author of the book Lunch Money: Serving Healthy School Food in a Sick Economy, a timely book dispelling the myth that school food reform is cost prohibitive. Included in this practical how-to book are examples, diagrams, charts, and worksheets that unlock the financial secrets to scratch-cooking in the school food environment and prove that a penny saved is much more than a penny earned.
Related Speakers View all
---
Allison Daily

Author of Out of the Canyon.

Julie Spira

Author.

Jessyca Frederick

shopper.

Laurel House

Laurel House is a fit living expert, author and beli...

Judy Weitzman

Thirty years ago Judy lost 50 lbs and has kept it off.

Linda Hayes

Aspen-based freelancer Linda Hayes writes about culi...

Paula Silver

Paula has more than 25 years of experience in the de...

Heidi Houston

Heidi Houston is a force to be reckoned with – that ...

Jody Bear

Jody Bear has over 30 years experience and has been ...

Audrey Mansfield

Audrey Mansfield is the style contributor for San Fr...

Lisa Kolodny

Brand Development and Marketing Expert.

Dr. Marianne Brandon

Dr. Marianne Brandon is a clinical psychologist and ...

Amanda Goldfarb

Amanda Goldfarb an expert in leading a healthy, nutr...

Elisabeth Halfpapp

Elisabeth Halfpap is the Executive Vice President of...

Jayne Geller

Jayne Geller, a selling specialist at Barneys New York

Elizabeth Lee Vliet, MD

Elizabeth Lee Vliet, M.D. is a women's health specia...

Bat Sheva Marcus, LMSW, MPH, PhD

Dr. Bat Sheva Marcus, a sexual dysfunction specialis...

Paula Simpson

With international recognition as a nutrition & fitn...

Melissa O'Shea

Melissa O'Shea, MS RD is a Registered Dietitian with...

Kelly Sheerins

Kelly Sheerins has been a professional dancer in NYC...
More like Kate