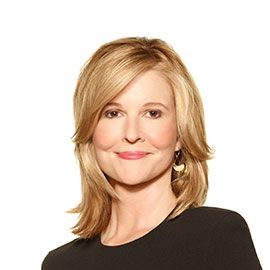 Kathleen Parker's clear, descriptive, lively writing underscores her common-sense approach to life's challenges. Twice weekly, she assesses the country's mental health and political climate in her Washington Post column.
Parker describes herself politically as "mostly right of center" and was the highest-scoring conservative pundit in a 2012 retrospective study of pundit prediction accuracy in 2008.
Now one of America's most popular opinion columnists, appearing in more than 350 newspapers, Parker is at home both inside and outside the Washington Beltway. But she came to column-writing the old-fashioned way, working her way up journalism's ladder from smaller papers to larger ones.
"I never set out to become a commentator – and do continue to resist the label 'pundit' – but I found that keeping my opinion out of my writing was impossible," says Parker. "One can only stand watching from the sidelines for so long without finally having to say, 'Um, excuse me, but you people are nuts.'"
Praised for "attacking ignorance and stupidity with vividness and originality" by the judges of the prestigious H.L. Mencken Writing Award, which she won in 1993, Parker gained a rapt and appreciative audience throughout the 1990s. But it was in the days and months following the Sept. 11, 2001, terrorist attacks and the ensuing wars in Afghanistan and Iraq that her attempts to "inject a little sanity" established her as a premier commentator. Her writings in support of American troops, first-responders and other front-line participants in the war on terror were among the reasons The Week magazine named her as one of the country's top five columnists in 2004 and 2005.
Parker started her column in 1987 when she was a staff writer for The Orlando Sentinel. Her column was nationally syndicated in 1995 and she joined The Washington Post Writers Group in 2006. Along the way, she has contributed articles to The Weekly Standard, Time, Town & Country, Cosmopolitan and Fortune Small Business, and she serves on USA Today's Board of Contributors and writes for that newspaper's op-ed page.
She is a regular guest on NBC's "Meet the Press" and MSNBC's "Hardball." Her book "Save the Males: Why Men Matter, Why Women Should Care" was published in 2008 by Random House.
As an undergraduate, Parker studied in both the United States and abroad, including the University of Valencia in Spain. She holds a master's degree in Spanish from Florida State University, and is writer in residence at the Buckley School of Public Speaking in Camden, S.C.
Parker is married and has three sons. She divides her time between Camden and Washington, D.C.
Videos
---
Speech Topics
---
Politics, Culture, and Contemporary Issues
Kathleen Parker has more than two decades of experience as a columnist and television personality. She has cultivated that immense experience into invaluable expertise in politics, culture, contemporary issues, and how the three intertwine. Discussing the politics du jour, Parker gives her audiences unique insights on the issues that get under their skin.
Civility in Politics
The degree of civility in politics has decreased dramatically in the last few years. Gone are the days of the Trent Lotts and John Breauxs who are polarized ideologically but manage to remain close friends. Kathleen Parker explains where the breakdown occurred, how our society got to this point, and what can be done to improve the situation – the overall "niceness" in politics.
"The Spy for Bubba."
Kathleen Parker takes advantage of her South Carolina roots and political expertise to act as a "double agent" between Washington outsiders and those inside the Beltway. We always hear pundits ask, "What were they thinking?" and Parker can translate the nuance of the "other" side's decisions.
Related Speakers View all
---
Kellyanne Conway

Former Counselor to the 45th U.S. President Donald T...

Daniel Pipes

Foreign Policy Expert & President of The Middle East...

Laura Ingraham

Political Commentator, Television Host & Journalist

John Fund

National Affairs Columnist for National Review Maga...

Michael Barone

Senior Political Analyst, Washington Examiner

Don Gonyea

NPR's National Political Correspondent

Katie Pavlich

Conservative Commentator, Author & Journalist

Jason Mattera

Emmy-Nominated Journalist, Conservative Activist & A...

Rep. Tom Tancredo

Member of the U.S. House of Representatives from Col...

Andrew C. McCarthy

Senior Fellow at the National Review Institute; Seni...

Steven Malanga

Senior Fellow, Manhattan Institute; Senior Editor, C...

Jodi Kantor

Pulitzer-Prize Winning Journalist & Author

Margaret Hoover

Conservative Political Commentator, Political Strate...

Jared Bernstein

Member of Biden's Council of Economic Advisers; Reno...

Meghan McCain

Co-Host of "The View," Political Columnist, Author &...

Michelle Malkin

Award-Winning Conservative Columnist & Best-Selling ...

Patrick Buchanan

Former Communications Assistant for the President, C...

Leslie Sanchez

Political Analyst & Entrepreneur

Ramesh Ponnuru

Senior Editor for National Review, American Conserva...

Lisa Myers

Senior Investigative Correspondent, NBC News
More like Kathleen