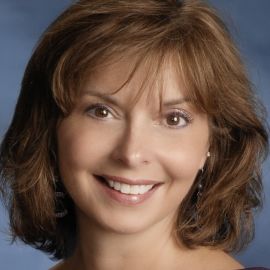 Kathy Cleveland Bull
Dynamic Speaker on Life Balance
Kathy Cleveland Bull is a highly regarded professional speaker, trainer and consultant. Her company, N~Compass Consulting, helps clients "Navigate the Art and Science of Change." Kathy recently returned from Nairobi, Kenya where she conducted seminars for corporate leaders in Africa for the Strategic Leadership Centre.
Kathy conducts personal and professional development seminars for Fortune 500 companies, educational institutions, government agencies, and not-for-profit organizations throughout North America. She consults on successful change strategies, human performance and strategic planning. Kathy Cleveland Bull's recent clients include such diverse organizations as Dow Chemical, Honeywell, Novartis, Accenture, Pharmacia, Marzetti, Max & Erma's Restaurants, Nationwide Financial, ITLA Capital Corporation, Special Olympics of New York, Head Start, National Kidney Foundation and more than 30 colleges and universities.
Kathy is one of three professional speakers recommended by Dr. Spencer Johnson to provide training built upon his book Who Moved My Cheese? She has trained more than 50,000 people to successfully manage change in their work and life using the "cheese" metaphor.
Prior to forming her own firm, Kathy Cleveland Bull was the Director of Training and Organizational Development for some 2,000 Student Affairs employees at The Ohio State University. Kathy has held various leadership positions in student affairs administration, admissions, leadership development, event planning and residence life at Bowling Green State University, North Carolina State University and Ohio State.
A Phi Beta Kappa psychology graduate of Bowling Green State University, Kathy has two BGSU Master's degrees, one in College Student Development and another in Counseling. She has served her alma mater as a member of the university's Alumni Board of Trustees and Arts and Sciences Board of Advocates. Cathy Cleveland Bull received the Outstanding Recent Graduate Award from the BGSU Alumni Association in 1989.
Kathy is a member of the International Society of Performance Improvement, the American Society of Training and Development, and the American College Personnel Association. She lives in Columbus, Ohio with her husband Joe and their two daughters.
Videos
---
Related Speakers View all
---
Amanda Gore

CEO of The Joy Project; Author & Psychologist; Emoti...

Christine Cashen

Hall of Fame Motivational Speaker; Author of "The Go...

Tina Marie Jones

Connecting with the audience through the style of a ...

Barbara Glanz

The Employee Motivation Expert

Laura Stack

Productivity & Time Management Expert

Jean Bailey Robor

Jean Bailey Robor, award-winning author and inspirat...

Jim Carroll

One of the World's Leading Global Futurists, Trends ...

Emory Austin

Authority on Leadership, Change & Customer Service

Dr. Marla Gottschalk

Industrial & Organizational Psychologist; Workplace ...

Joseph Covelle

Speaking From the Heart To Help Change Minds

Josie Payne

Organizational Development Specialist

Charlie Alejandro

Motivational Speaker, Writer, Actress & Radio Talk S...

Gary Bradt, PhD

Change, Leadership & Life Balance Expert; Author of ...

Barbara Rogoski

Empowering People To Speak in Public with Power and ...

Tracy Lewis

Christian Author, Speaker, and Teacher

Melissa Pierce

Filmmaker, Life Coach, Innovator & Idea Pollinator

Lori La Bey

Driving Change How Caregiving is Perceived, Received...

Kristi LeBlanc

Premier Expert on Recruiting-Engaging Purposeful, Pa...

Kristen Hagopian

Personal Finance Author, Popular Columnist, Consumer...

Liz Nead

Executive Business & Life Coach
More like Kathy