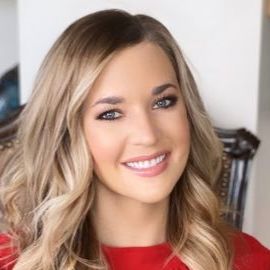 Katie Pavlich is the editor for Townhall.com and a former contributing editor to Townhall Magazine. As a Fox News contributor, Katie regularly co-hosts the daytime show Outnumbered and fills in as a guest host on the The Five, the Ingraham Angle and Hannity. As a reporter, she has covered a variety of topics ranging from presidential and congressional elections to the White House, Department of Justice, Second Amendment, border issues, the ISIS genocide of Christians in the Middle East and more. Katie serves as a columnist for The Hill and previously for the Pittsburgh-Tribune.
Katie is the award winning author of "Assault and Flattery: The Truth About the Left and Their War on Women" (Threshold Editions 2014) and the New York Times Best Seller "Fast and Furious: Barack Obama's Bloodiest Scandal and Its Shameless Cover-Up" (Regnery 2012).
Katie has shared her perspective on multiple media venues including, Fox News, CNN, MSNBC, CNBC and Fox Business, in addition to a host of national and local radio shows. She has served as a fill-in host for conservative radio host Mark Levin and as a guest co-host for Washington DC's largest morning politics show on WMAL. She is a regular speaker on college campuses across the country for Young America's Foundation and regularly participates in conference panels.
In 2012 Red Alert Politics named Katie as one of the top 30-under-30 young professionals in the conservative movement. In 2013, Katie received the CPAC Blogger of the Year Award from the American Conservative Union and in 2014, she was named Woman of the Year by the Clare Boothe Luce Policy Institute.
Speech Topics
---
Age of entitlement and why young people are becoming slaves to the government
Government corruption: why big government fuels big corruption
Media, the left and your government: why your mainstream news is propaganda
New Media: What the age of information means for conservatives
Rebels on campus: Why being a liberal on today's campuses is really boring
Related Speakers View all
---
Guy Benson

Political Editor of Townhall.com & Fox News Contributor

Pete Seat

Former White House Spokesman, Author & Political Com...

Ben Shapiro

Conservative Political Commentator & Radio Talk Show...

Michelle Malkin

Award-Winning Conservative Columnist & Best-Selling ...

Tammy Bruce

Political Commentator, Talk Radio Show Host & Author

Dana Loesch

Conservative Talk Radio Host, Former NRA Spokesperson

Lawrence B. Jones III

Conservative Commentator and Editor-in-Chief, Campus...

Steven Crowder

Conservative Commentator, Comedian & Former Fox News...

Candace Owens

Political Activist, Conservative Commentator & Found...

Linda Chavez

Conservative Political Commentator, Chairman of the...

Charlie Kirk

Founder & Executive Director of Turning Point USA

James O'Keefe

Guerilla Journalist, Conservative Political Activist...

Rich Galen

Political Columnist, Republican Strategist & Former ...

Shannon Bream

Journalist, Host of Fox News at Night & Author

Rachel Campos-Duffy

Parenting Expert, Author, Political Analyst & Fox Ne...

Ann Coulter

Bestselling Author & Political Commentator

Jedediah Bila

Emmy-Nominated TV Host, Author & Columnist

Laura Ingraham

Political Commentator, Television Host & Journalist

Morton Kondracke

Political Commentator & Columnist

Jeanine Pirro

Lawyer, Prosecutor & Politician; Host of "Justice wi...
More like Katie