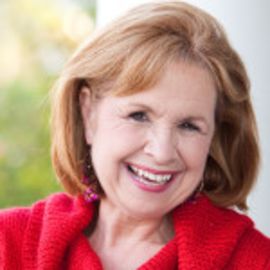 In a colorful bathrobe, fuzzy slippers and a wig with curlers, Kay DeKalb Smith hits the stage with a coffee pot in one hand and New Testament in the other. This peppy redhead wins audience chuckles with stories of chasing her daughters with a fly swatter, her dislike of cooking ("My family always knows when dinner is ready because the smoke alarm goes off!"), and the trials of hormonal ups and downs. She sings about balancing the checkbook, hot flashes and God's love. She has been called both the "Carol Burnett of Christian Entertainment" and "a singing Erma Bombeck."
Kay is actively scheduled on church stages, in banquet halls or at conventions in places from Weisbaden, Germany to Vandalia, Ohio. Kay credits her family with providing a good bit of her stand-up comedy material. "I was raised in one of the few functional families that are left," she says laughing. "My parents experienced the joy of the Lord daily. My childhood home in Hartselle, Alabama, was one filled with laughter. My parents didn't beat me. They laughed at me. We had our share of problems, but for the most part, we loved each other unconditionally. "
Her parents and teachers encouraged Kay's animated personality and impersonations. By age 16, she was performing at Hartselle's "nightclubs." "You know, the Rotary, Kiwanis and Lions clubs," Smith deadpans, in characteristic Southern drawl.
At 17, she wowed judges at a Miss Alabama Teenager pageant with her impressions of Shirley Temple and was second runner-up in the national contest. She was Miss Birmingham the next year.
The pageants gave her poise and stage presence. But her best education came at Opryland USA Theme Park in Nashville, where she performed two years as a singer, dancer and impersonator.
Kay moved to Nashville in 1974 and, for the next 10 years, she did radio, TV commercials, performed backup with Anita Bryant and volunteered at Vanderbilt Children's Hospital, where she performed room-to-room.
She married husband Ed, a church business administrator and former banker, in 1982. They now have two daughters, Allie and Evin.
Perhaps Kay's daughter Evin says it best, "Mom, if I ever lost you in the mall I'd know how to find you. I'd just follow the laughter!"
Videos
---
Speech Topics
---
Program Great For:
Women's retreats, conferences, banquets, mother/daughter banquets, family fun nights, choir appreciation banquets, stewardship banquets, valentine banquets, teacher appreciation banquets, seasonal events, VBS programs for families
Related Speakers View all
---
John Gray

Christian Comedian, Pastor & Author; Star of "The Bo...

Tim Hawkins

Christian Youth Pastor and Comedian

Shawn Reynolds

Clean Christian Comedian for Corporate & Church Events

Ken Davis

Author, Inspirational & Motivational Speaker

Lisa-Jo Baker

Best-Selling Author & Co-Host of the Out of the Ordi...

Jonnie W

Stand-up Musical Comedian

Lauren Daigle

Christian Singer-Songwriter

Jonathan Slocumb

American Christian Comedian

Jennifer O'Neill

Internationally Acclaimed Actress, Christian & Pro-L...

David Nasser

Pastor, Speaker & Author; SVP for Spiritual Developm...

Dr. Cindy Trimm

Best-selling Author & Former Senator of Bermuda

Brenda Warner

Brenda Warner is a speaker, philanthropist, and New ...

D.L. Hughley

Award-Winning Stand-Up Comedian, Political Commenta...

Jessica Cox

World's First Armless Pilot & First Armless Black-Be...

Pam Tebow

Mother of Tim Tebow, Faith-Based & Pro-Life Speaker

Lisa Whelchel

Author, Founder of Momtime Ministries & Actress Know...

Gordon Douglas

Christian Comedian

LaDonna Gatlin

Singer & Author; Sister of the Legendary Country Mus...

Sheila Walsh

Author, Speaker, Worship Leader, Television Talk Sho...

Tom Wilson

Tom Wilson is an artist, actor and comedian. He's pe...
More like Kay