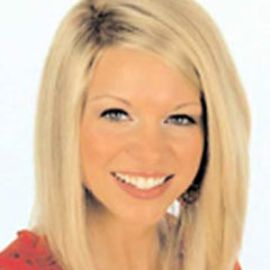 Kayla Martell
Kayla Martell is a 21 year old beauty queen who lost her hair at the age of 11 from Alopecia Areata. She speaks about overcoming adversity, self-esteem and learning to love yourself.
Kayla Martell, 21, is a model, spokesperson and inspirational speaker. The Delaware native currently resides in a suburb of Washington, DC. At the age of eleven she noticed bald patches on the top of her head and was ultimately diagnosed with Alopecia Areata. She has lost all of her hair on top of her head, since then and frequently loses her eyelashes and eyebrows as well. Because of her faith and the confidence she had, Kayla chose to not wear a wig and continues to walk-around bald on most days.
The same year Kayla lost her hair, her best friend passed away from a drug overdose, that know one saw coming. Because of this, Kayla created her own non-profit organization, P.L.E.D.G.E.- People Learning to Eliminate Drugs by Gaining Education. Kayla wrote the curriculum at age 12 and applied for and received grants to cover all the costs. Over the years Kayla volunteered, and recruited tens of her peers to volunteer and educate teens of the negative effects of drugs. Kayla encourages teens to find alternative interests to raise their self esteem and keep them from trying risky behaviors.
Kayla decided at age 13, just a few years after losing her hair and her best friend, to compete in a pageant. She chose not to wear a wig and speak openly about her Alopecia. She placed first-runner up and saw the potential in herself and in the program. The following year Kayla competed and won the title of "Teen Miss Milford 2003". Every year since then she has competed in pageants and won the first local pageant that she entered. She has held the titles of "Teen Miss Dover 2004", "Teen Miss Central Delaware 2005", "Miss Sussex County 2006", "Miss Indian River 2007", "Miss Georgetown 2008", "Miss Newark 2009" and "Miss Kent County 2010". She has competed in these Miss America local competitions and led on to place 1st Runner-Up to Miss Delaware's Outstanding Teen, 4th Runner-up to Miss Delaware 2006 and was a Top Ten Finalist at Miss Delaware 2007-2009. She will vie for the title of Miss Delaware 2010 in June, and hopefully we will see her on the Miss America stage someday.
Kayla has spoken at several National Alopecia Areata Foundation fundraisers, events and conferences throughout the United States about her story of losing her hair and her success in beauty pageants. She was the official keynote speaker of the NAAF Conference in Houston, TX in June 2009 and the Keynote/Inspirational Speaker for the "Let Your Hair Down" Event in New Jersey alongside "All My Children" actor, Joe Sernio both in 2008 and 2009. She has spoken in many classrooms, women's groups, to DBCC Breast Cancer survivors, and at-risk youth programs.
Kayla has been featured on NBC News, NBC's "All That And More", NBC's "Your Total Health", National 4-H News, The Dr. Keith Ablow Show and www.kidshealth.org.
Kayla's father is a disabled veteran of the U.S. Air Force. She credits her abilities to her first 4-H public speaking contest at the age of 8 and her lifelong passion of dancing and performing.
Related Speakers View all
---
Sierra Bender

Empowerment Coach and Visionary Healer for the Mind,...

Val McLeod

Inspirational Influencer and Empowerment Speaker and...

Jovi Brown

Authority on leadership, motivation, communication

Ariane de Bonvoisin

Founder and CEO of First30Days.com & Author, "The Fi...

Dr. Molly Barrow

Well-Known Relationship Expert and Author; Licensed ...

Charlie Alejandro

Motivational Speaker, Writer, Actress & Radio Talk S...

Sandra Graves

International Keynote Speaker, Life Coach, and Auth...

Tiffany Michelle

One of the hottest, young female professional poker ...

Erin Gruwell

Inspirational Educator & Author of "The Freedom Writ...

Adrienne Fikes, M.Ed., C.S.C.

Book Adrienne, the Soul Power Coachâ"¢ and creator o...

Alexis Jones

Female Empowerment Activist & Author of "I Am That G...

I Am Tasha Jones

The virtual introduction, I AM TASHA JONES .COM lend...

Jose Feliciano, Jr.

Jose Feliciano has been achieving the impossible for...

Sindi Somers

Sindi Somers is an Animal Communicator, Energy Heale...

Dr. Joyce E. Scott

Dr. Scott is a great motivational speaker, taking ca...

Terri Norvell

Terri Norvell is a noted expert and consultant on Le...

Yvan J. Garcia

I am an extremely motivated individual who likes to ...

Dominique Dawes

Olympic Gold Medal-Winning Gymnast, Former Co-Chair ...

Paul F. Davis

Paul F. Davis is a worldwide speaker who has touched...

Debra Davenport

Debra Davenport is an internationally recognized fas...
More like Kayla