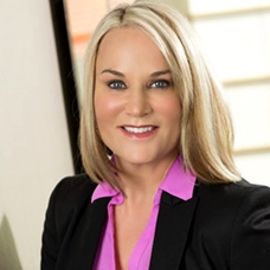 Kelly McDonald is a nationally recognized marketing expert, with deep specialization in multicultural marketing and business trends, and she was named #1 on the list of "26 Hot Speakers" by Successful Meetings magazine.
McDonald is the author of How to Market to People Not LikeYou, named a top business book of 2011 by Inc. magazine's 800-CEO-Read and Forbes. McDonald delivers up-to-the minute marketing advice for today's diverse, dynamic marketplace. McDonald's second book, Crafting the Customer Service Experience for People Not Like You, was released in November 2012 and has been featured in Fast Company and BusinessWeek. The book shows how companies, brands, and products struggling to differentiate themselves in a sea of sameness can foster long-term loyalty and brand preference with exceptional and customized customer service.
She has been featured on CNBC, in BusinessWeek, on CNNMoney.com and on Sirius/XM Radio. McDonald works with clients such as Toyota, Harley-Davidson, Sherwin-Williams, State Farm and Miller/Coors. Her company, McDonald Marketing, has twice been named one of the top advertising agencies in the US by Advertising Age magazine.
As a professional speaker to businesses and organizations, McDonald shares marketing insights and teaches strategies and tactics for cultivating diverse consumers emotionally, rationally and with cultural relevance. Her topics are always customized to the specific industry and localized geographically as appropriate.
McDonald is high energy and high content. Her enthusiasm ignites audiences of every size. She is often chosen as an opening or closing keynote speaker to set the tone for a conference. She's a great fit for business owners, retailers, associations, HR professionals, corporate clients and hospitality professionals.
Videos
---
Speech Topics
---
How to Market to People Who Are Not Like You: The New Market Segmentation
Social Media and Marketing: How to Use it to Grow Business in a Low Cost, No Cost Manner
Relating, Not Translating: How to Market to U.S. Hispanics
Crafting the Customer Experience for People Not Like You: How to Delight & Engage the Customers Your Competitors Don't Understand
Mommy Marketing: How to Win the Hearts and Reach the Wallets of Today's Modern Mom
Changing Demographics and How this Affects Your Business Today and Tomorrow
Come Together: Generational Differences and How to Effectively Work with Someone Much Older or Younger than You
Diversity in America: the Growing Impact on Work, Organizations & Consumers
Customer Service: How to Keep Customers Rushing Back for More
Tips & Tricks for Taking Social Media to the Next Level
Disaster Recovery and Crisis Management Using Social Media
How to Connect with Others, Regardless of Age, Wage or Lifestage
How to be a Latino-Ready & Latino-Friendly Employer: Insights into Your Hispanic Workforce
How to Incorporate Outstanding Customer Service into Your Marketing Plan
Marketing 101 – The Basics of Advertising & Marketing and How to Implement Them
How to Best Reach the Hispanic Family in Your Schools
How to be a Culturally-Ready & Culturally Friendly Employer: Insights into Your Diverse Workforce
Related Speakers View all
---
Libby Gill

Leadership Expert, Executive Coach & Award-Winning A...

Doug Lipp

Former Head of Training at Walt Disney University & ...

Dr. Kevin Freiberg

World-Wide Best-Selling Author, Speaker & Advisor

Tim Sanders

Bestselling Author, Technology Pioneer, Expert on Co...

Dr. Jackie Freiberg

Corporate Culture & Leadership Strategist, Best-Sell...

Josh Linkner

Five-Time Tech Entrepreneur; Hyper-Growth CEO; NY Ti...

Jim Cathcart

Sales & Marketing Hall of Fame Speaker

Liz Nead

Executive Business & Life Coach

Seth Mattison

Co-Founder & Chief Movement Officer of Luminate Labs...

Jason Young

Former Senior-Level Manager at Southwest Airlines & ...

Robert Spector

Customer Service Expert, Bestselling Author & Creato...

Don Peppers

Marketing and Sales Futurist; Customer Experience Th...

Cam Marston

Workforce Dynamics Consultant; President & Founder o...

Candace Reese

The CEO Pundit: Empowerment Speaker, Inspirational C...

Andrea Raquel

Trained Broadcast Journalist / Marketing Pro & Exper...

Lynne Lancaster

Co-founder of BridgeWorks; Generational Expert & Co-...

Michael Bergdahl

Former Walmart Executive, Bestselling Business Autho...

Emory Austin

Authority on Leadership, Change & Customer Service

Tony Alessandra

Premier Communications Expert; Author of "The Platin...

Amy Jo Martin

Author, Speaker, Founder/CEO, Podcast Host & Innovat...
More like Kelly