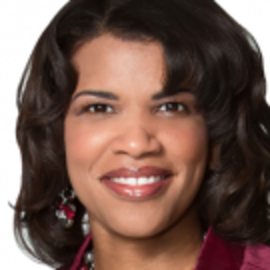 Kemba Smith
Criminal Justice Advocate, Author of "Poster Child," Abuse Survivor
Growing up as an only child in the suburbs of Richmond, Virginia, Kemba Smith led a privileged and sheltered childhood. After graduating from high school in 1989, she left the security of her family to continue her education at the prestigious Hampton University in Hampton, Virginia. What happened to Smith in her new campus environment was a nightmare: away from the protective watch of her mother and father and in an attempt to "fit in," she fell in with the wrong crowd and became involved with a drug dealer. He was a major figure in a crack cocaine ring and drew Smith right in the middle of his life with physical, mental, and emotional abuse, disguised as "love."
Eventually, after enduring a turbulent four-year relationship with him, Smith was sentenced to 24.5 years and served 6.5 of those in federal prison. Fortunately, she regained her freedom after President Clinton granted her clemency in December 2000. Her case drew support from across the nation and the world in a crusade to reverse a disturbing trend in the rise of lengthy sentences for first time, non-violent offenders. Her story has been featured on CNN, Nightline, Court TV, The Early Morning Show, Judge Hatchett, and a host of other television programs, along with several publications such as The Washington Post, The New York Times, Glamour, People, JET, Emerge, Heat and Soul, and Essence magazines.
Smith's traumatic real life experience forces today's students to recognize that there are consequences to their life choices. She has been corporately sponsored to speak at a variety of high schools and college venues by Proctor & Gamble, Bank One Academy, Shell Corporation, BET, Traveler's Foundation, and Verizon. Rainforest Films also acquired the rights to produce Smith's life story into a film. Rainforest Films is based out of Atlanta and has produced such acclaimed films as Stomp the Yard, This Christmas, Obsessed, Takers, and Think Like a Man.
She is a graduate of Virginia Union University and was a past recipient for a two year Soros Justice Postgraduate Fellowship for advocates. She has spoken on panels, testifying before Congress and the United Nations regarding a variety of criminal justice issues, including: crack cocaine sentencing, mandatory drug sentencing, women and incarceration, felony disenfranchisement, and re-entry. Currently, Smith is continuing to develop her 501 (c) (3) foundation, the Kemba Smith Foundation.
As a wife, mother, advocate, national public speaker, and author of her long awaited memoir, Poster Child, Smith has received numerous awards and recognitions for her courage and determination to educate the public about the devastating consequences of current drug policies. Ultimately, she knows that there is a lesson in each experience in life, and she has embraced her experience, learned from it, and is now using that experience to teach others.
Videos
---
Speech Topics
---
Poster Child: The Kemba Smith Story
Personal Responsibility: Today's Choices Are Tomorrow's Consequences
Domestic Violence, Self Esteem & Relationships: When "Love" Is Really Abuse in Disguise
American Drug Policy & Its Devastating Effects
Get Involved! Youth & Student Activism
Books
---
Related Speakers View all
---
Victoria Rowell

Classically Trained Dancer, Actress on "The Cosby Sh...

Kathy LeMay

Founder, President & CEO of Raising Change

Jurnee Smollett

Actress & Singer

Malaak Compton

Activist & Philanthropist

Kimberley Locke

Singer / Television Personality

Judge Glenda Hatchett

Former Juvenile Court Judge & Star of "Judge Hatchet...

America Ferrera

Award-Winning Actress, Producer & Humanitarian

Roslyn M. Brock

Chairman, NAACP

Mary Frances Berry

Professor, Author & Historian; Former Chairperson of...

Somaly Mam

Survivor & Anti-Sex Slavery Activist

Dr. M. Joycelyn Elders

Former Surgeon General of the United States

Sheryl WuDunn

Pulitzer Prize-Winning Journalist; Co-author of Half...

Patricia J. Williams

Columnist & Law Professor

Kathleen Kennedy Townsend

Maryland's 1st Female Lt. Governor

David Satcher, M.D., Ph.D.

16th US Surgeon General

Asra Nomani

Journalist & Author, Women's Rights Activist

Sonia Nazario

Pulitzer Prize-Winning Author & Journalist; Author o...

Kathy Najimy

Award-Winning Actress & Activist

Tonya Lewis Lee

Author, Producer & Activist

Angela Davis

Feminist, Social Activist, Professor & Writer
More like Kemba