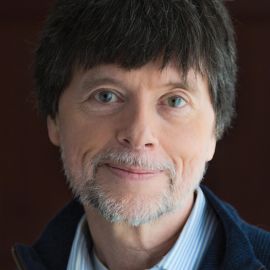 Ken Burns has been making documentary films for over forty years. Since the Academy Award-nominated Brooklyn Bridge in 1981, he has gone on to direct and produce some of the most acclaimed historical documentaries ever made. His films have won sixteen Emmy Awards and two Oscar nominations, and in September of 2008, at the News & Documentary Emmy Awards, Ken was honored by the Academy of Television Arts & Sciences with a Lifetime Achievement Award.
Burns' works are treasure troves of archival materials; he skillfully utilizes period music and footage, photographs, periodicals and ordinary people's correspondence, the latter often movingly read by seasoned professional actors in a deliberate attempt to get away from a "Great Man" approach to history. Like most non-fiction filmmakers, Burns wears many hats on his projects, often serving as writer, cinematographer, editor and music director in addition to producing and directing. He achieved his apotheosis with The Civil War (1990), a phenomenally popular 11-hour documentary that won two Emmy Awards and broke all previous ratings records for public TV.
Following the success of The Civil War, Burns then made a combination of single films, miniseries, and extended series, including the epics Baseball (1994), which won an Emmy, and Jazz (2001). Burns's later docu-series included The War (2007),The National Parks: America's Best Idea (2009),The Tenth Inning (2010), The Address (2014), The Vietnam War (2017), and more.
Burns frequently employed the distinctive voices of well-known actors in the narration of his films and twice collaborated on scores with jazz musician Wynton Marsalis. His documentaries continued to accrue accolades from a variety of film and historical organizations. Many of them appeared on the Public Broadcasting Service (PBS) network, often bringing it a marked increase in viewership when they aired.
He continually impresses and engages audiences by creating even more ambitious material, including Country Music (2019), which chronicles the history of a uniquely American art form, and Earnest Hemingway (2020) which focuses on the experiences of remarkable people in distinctive regions of our nation, and examines the visionary work and turbulent life of Ernest Hemingway.
Burns has been the recipient of more than 25 honorary degrees and has delivered many treasured commencement addresses. He is a sought after public speaker, appearing at colleges, civic organizations and business groups throughout the country.
Videos
---
Speech Topics
---
Old Ghosts and Ancient Tones (Country Music)
This powerful, moving speech digs deep into the history and meaning of country music. It's all here: its greatest stars and the words and music that touch on universal human experiences. (Clip(s) optional.)
A History of the World (The Vietnam War)
Burns tries to make sense of the most important and most consequential event in American History since World War II. Here competing viewpoints and perspectives are balanced to give us a chance to finally come to terms with this important conflict. (Clip(s) optional.)
The Rising Road (The Roosevelts: An Intimate History)
A detailed and intimate look at three hugely influential, but deeply flawed and wounded people, who are Theodore Roosevelt, Franklin Delano Roosevelt and Eleanor Roosevelt—their lives, but also their times. (Clip(s) optional.)
A Treasure House of Nature's Superlatives (The National Parks: America's Best Idea)
Burns discusses the great gift of our national parks. Here both "the immensity and the intimacy of time" merge, as we appreciate what the parks have added to our collective and individual spirit. (Begins with 13-minute clip - intro to the film.)
Sharing the American Experience (The Civil War, Baseball, Jazz)
Ken Burns reminds the audience of the timeless lessons of history, and the enduring greatness and importance of the United States in the course of human events. Incorporating The Civil War, Baseball and Jazz, Burns engages and celebrates what we share in common.
Related Speakers View all
---
Bob Costas

Award-Winning Sportscaster, Broadcaster & Best-Selli...

Daymond John

"Shark Tank" Investor; Founder & CEO of FUBU; Presid...

Robert Ballard

Renowned Ocean Explorer & Scientist

Alexandra Cousteau

Environmental Activist, Storyteller & Ocean Advocate

Graham Hill

Founder of Life Edited & TreeHugger.com

Montel Williams

Emmy Award-Winning Talk Show Host Best Known For "Th...

Van Jones

CNN Political Contributor; Author; Human Rights, Edu...

David Breashears

Everest Adventurer, Filmmaker & Senior Lecturer at M...

Gary Vaynerchuk

Co-Founder & CEO of VaynerMedia

Calvin Trillin

Author, Columnist, Humorist & Political Satirist

Pat Riley

Miami Heat President & Hall of Fame Inductee

John Kasich

Former Governor of Ohio

Spike Lee

Academy Award-Winning Writer, Producer, Actor & Dire...

Dr. Michio Kaku

World-Renowned Futurist & Theoretical Physicist

Kathy Ireland

CEO & Chief Lifestyle Designer of Kathy Ireland Worl...

Dave Barry

New York Times Best-Selling Author & Humorist

Kevin Powell

Writer, Humanitarian, President of BK Nation

John Tesh

Inspirational Radio Host, Pianist & Composer; Known ...

Ben Stein

Political Economist, Commentator, Author & Actor

Dan Rather

Iconic Journalist & Former News Anchor for the CBS E...
More like Ken