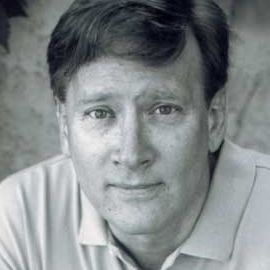 Ken Gire is the author of more than twenty books and founder of Reflective Living. Ken has written several faith-enriching devotionals, such as "Intimate Moment with the Savior," "Incredible Moments with the Savior," "Instructive Moments with the Savior," and "Intense Moments with the Savior." In addition to the "Moments with the Savior" series, other titles by Ken include "The Divine Embrace," "Windows of the Soul," "The Work of His Hands," and the "Reflective Life" series.
Reflective Living, a non-profit ministry, is entirely devoted to helping people learn how to slow down and live more reflective lives so that their life's experiences can be felt more deeply, especially in moments with God and other people. The Reflective Living website says, "This, we believe, is the first step toward fulfilling the Great Commandment. Before we can passionately love God and other people, we first have to experience them through what we see in them, what we hear from them, and how we are touched by them."
Ken graduated from Texas Christian University and Dallas Theological Seminary.
Videos
---
Speech Topics
---
Windows of the Soul
This series of messages comes from his book of the same name, which can be offered for sale by the host or given as gifts.
The series can be as few as one message or as many as four. In these sessions, Ken talks about how to gain a skill for looking and listening to what God is doing in you or around you. He uses film clips, where he walks the audience through each one so that they can learn the skill of being attentive to the everyday moments of life and how God may be speaking through those moments. He underpins all of his messages with the Scriptures. He also uses stories from his own life in a way that engages the audience in a warm and personal way.
For many people, this series is an epiphany in the way they engage God, other people, and the world around them.
The Divine Embrace
Taken from his book of the same title, this series can be from one to five messages. The subtitle of the book is: "An invitation to the dance of intimacy with Christ---an exhilarating, ennobling, uncertain step at a time." The messages take the metaphor of the dance and apply it to our relationship with Christ, showing how He leads and how He has asked us to follow. These messages challenge the audience to make a paradigm shift in their relation to Christ, where our activity for Him flows out of our intimacy with Him. The topics are about learning how to listen, how to love, and how to follow. Ken weaves key Scriptures, film clips, stories, and music in a way that has been life-changing for many.
Lost Lessons of the Titanic
Ken has not written on this topic. It is series of talks, as few as one and as many as three, that focuses on the importance of looking and listening, especially to the warning signals that are going off all around us. The series is especially good for the staff of an organization. In an era when "bigger, better, faster," is the mantra of so many organizations, it is important to learn the parables of the Titanic, where that mantra led to disaster.
The Weathering Grace of God
Based on his book by the same title, this can be one message or two. Ken uses a map of Colorado to show the contrast been eastern and western Colorado---life as we would like it, and life as we are given it. Ken leads the audience through passages like Psalm 46, as well the examples from the lives of David and Solomon. He also uses some key film clips to illustrate that the beauty God brings to our lives often comes from the most shattering of upheavals.
The Work of His Hands
Ken uses passages from Scripture, along with slides of Michelangelo's Pieta, to show how God goes about the work of forming Christ in us. This is only one talk, and it can be shortened and adapted to lead a group in communion.
The North Face of God
Based on Ken's book of the same name, this series can be as few as one message or as many as four. Ken uses the imagery of Mount Everest to talk about the stone cold silence of God that people often experience when they go through suffering. It is an honest portrayal of living in a world at war that is being waged by the spiritual forces at work in that world.
Writing Seminar
This is a series of talks that Ken does on writing, which can be as few as one talk or as many as eight. In these seminars, which are usually weekend seminars, Ken shows how he learned to write, which was not through school or being mentored. He learned by observing everything and trying to learn what the world around him had to teach about writing. He uses illustrations from film clips, music, art, literature, architecture, nature, even interior design, to show how we can glean principles that will help us become better writers.
Fund-raising Banquet for Groups like Young Life
Ken uses three film clips, along with remembrances of his own Young Life leader, to show the importance that one person can make on generations.