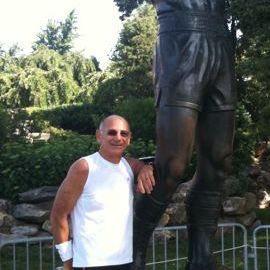 Ken Leebow's claim to fame is: He simplifies "things". He believes many everyday things are too difficult. Now, he is passionate about diet and living a healthy lifestyle. He knows firsthand that it is easy to lose weight and maintain a healthy lifestyle. With his typical high energy and enthusiasm, he puts his keen focus on this subject matter.
Many years ago -1977 - he graduated from the University of Florida with a degree in accounting. While he earned his CPA early in his career, he found his calling in the technology world. In 1988, he started a voice mail company -- VIP (Voice Information Processing). When asked about voice mail now, he chuckles. "Back then, we had to educate people about it; how to leave messages, press 1, 2, or 3. Of course, now everyone uses voice mail -- for better or worse."
In 1996, while computers were answering his customer's calls, he started surfing the Net. He was fascinated by all the incredible websites. However, in true Leebow tradition: He thought it was difficult to find all the gems. So . . . he decided to write his first book: 300 Incredible Things to Do on the Internet. To date, his books have sold over 3-million copies. While Leebow's books are self-published, he did sell one title to Time/Warner. For over ten years, Leebow served as NBC's (Atlanta) Internet Guru. In
Ken developed the Food House. this capacity, he had weekly TV segments about timely Internet issues. In 2003, Leebow took on the role of Qwest Communications' Incredible Internet Guy. As the Incredible Internet Guy, Leebow appeared on TV and discussed many interesting and timely Internet topics.
Over the past ten years, Ken has done hundreds of radio interviews and has been seen on many local TV stations. In addition to his local appearances, he has been seen nationally on CNN, Fox News, NBC's Early Today, Oprah's Oxygen Network, and the Discovery Channel.
Ken's new passion: Simplify dieting and living a healthy lifestyle. After much research and study, he has created a logical and simple method for losing weight and living a healthy lifestyle.
While there are thousands of scientific studies about diet, nutrition, and health, Ken focused on a few basic principles to begin losing weight. He found it quite simple and realized, like many, that diet and health go hand-in-hand.
Ken is on a mission to help people with their diet and lifestyle. His ultimate goal, while daunting, is to end obesity in America.
Keynote Speech Topic:
Health is Our Greatest Wealth ...
If you are looking for a passionate author who is engaging and entertaining, I have created an interesting presentation about diet, health, lifestyle and the American food system. Most people would agree with this statement: "Without your health, you have nothing." While I discuss diet and weight-loss, the end game is about health!
In this one hour presentation, I deliver a fascinating perspective into the American food system. It's a fun, fact-filled presentation, that will have you on the edge of your seat. Along the way, I will expose some lies, bust a few myths, and help move you toward living a healthier lifestyle.
By the end of the speech, you will be ready to Think Different, Eat Different, and if need be, lose weight. As a wonderful byproduct, you'll be ready to live a healthier lifestyle, because diet and health go hand-in-hand.
Related Speakers View all
---
Dr. Holly G. Atkinson

Award-Winning Medical Journalist

Joe Piscatella

Lifestyle & Health Expert; Bestselling Author; Longe...

Courtney Nichols Gould

Co-Founder & Co-CEO, SmartyPants Inc.

Joe Landa

Celebrity Chef & Fitness Guru Joe Landa is a Chopped...

Marshall Reid

Founder, "PORTIONSIZEME", A lifestyle Campaign.

Gary Null

Authority on Health, Nutrition, Alternative Medicine...

Summer Knight

Innovative Thought Leader.

Michelle Gielan

National CBS News Anchor Turned Positive Psychology ...

Vasavi Kumar

"Freedom Strategist," Indian Woman Living with Bipol...

Grace Gold

Beauty & Wellness Journalist

Amanda Russell

Digital Marketing & Branding Strategist, Professor ...

Shalini Vadhera

Author, Celebrity Makeup Artist, Global Lifestyle Ex...

Connie Podesta

Expert in Changing Lives; Author of "Life Would Be E...

CJ Jacobson

Executive Chef, "Top Chef" Contestant and Cancer Sur...

Shmuley Boteach

Host of TLC'S Shalom in the Home

Isadore Rosenfeld

Medical Luminary & Physician

Abby Rike

Contestant on NBC's "The Biggest Loser"; Inspiration...

Mark A. Roosevelt

President of St.John's College

Christine Clifford

Bestselling Author, Professional Speaker & Breast Ca...

Cheryl-Ann Webster

Sculpting a Happier, Healthier Workplace by Building...
More like Ken