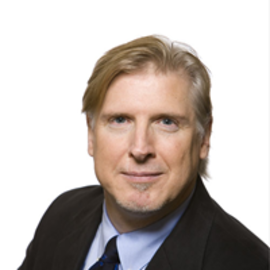 Ken McIntyre
Marilyn and Fred Guardabassi Fellow in Media and Public Policy Studies and Special Projects Editor.
Ken McIntyre, a 25-year veteran of national and local newspapers who serves as special projects editor at The Heritage Foundation, is the Marilyn and Fred Guardabassi Fellow in Media and Public Policy Studies. McIntyre joined Heritage in January 2007 after 17 years covering international, national and local news as an editor and writer at The Washington Times, including seven as assistant managing editor for special projects overseeing priority reports and series. His other leadership positions at the conservative daily in Washington, D.C., included metropolitan editor and features editor. Previously, McIntyre reported and edited for the Montgomery Journal and Gazette newspapers in Montgomery County, Md. He also was editor and chief editorial writer of the Montgomery County Sentinel, which won the National Newspaper Association's Blue Ribbon Award during his tenure in the late '80s. McIntyre's work has received recognition in top awards from, among others, the Washington chapter of the Society of Professional Journalists; American Society of Newspaper Editors; the Penney-Missouri Program; Maryland-Delaware-D.C. Press Association; Associated Press, Chesapeake Division; Religion Newswriters Association; Religion Communicators Council; and the NAACP of Montgomery County, Md. Born in Concord, Calif., McIntyre grew up in the Bay area and in Cincinnati, Ohio. His family moved to the Washington area in 1971. He graduated with distinction from George Washington University in 1979 with a bachelor of arts degree in English literature. He and his wife, Kellie, herself a recovering journalist, reside near Gaithersburg, Md., while their son and daughter juggle work and college.
Related Speakers View all
---
Ray Walser, Ph.D.

Senior Policy Analyst.

Charles "Cully" Stimson

Chief of Staff and Senior Legal Fellow.

Jack Spencer

Senior Research Fellow, Nuclear Energy Policy.

James Sherk

Senior Policy Analyst in Labor Economics.

Derek Scissors, Ph.D.

Senior Research Fellow.

Brett D. Schaefer

Jay Kingham Fellow in International Regulatory Affairs.

Paul Rosenzweig

Paul Rosenzweig, who helped craft policy and strateg...

James M. Roberts

Research Fellow For Economic Freedom and Growth.

James Phillips

Senior Research Fellow for Middle Eastern Affairs.

David B. Muhlhausen, Ph.D.

Research Fellow in Empirical Policy Analysis.

Derrick Morgan

Vice President, Domestic & Economic Policy.

Robert E. Moffit, Ph.D.

Robert E. Moffit, a seasoned veteran of more than th...

Ambassador Terry Miller

Director, Center for International Trade and Economi...

Matt A. Mayer

Visiting Fellow.

Walter Lohman

Director, Asian Studies Center

Paul Larkin

Senior Legal Research Fellow

David W. Kreutzer, Ph.D.

Research Fellow in Energy Economics and Climate Change.

Patrick Louis Knudsen

Grover M. Hermann Senior Fellow in Federal Budgetary...

Bruce Klingner

Senior Research Fellow, Northeast Asia.

Daniel H. Johnson, Jr., M.D.

Daniel H. Johnson, Jr., M.D., is a practicing diagno...
More like Ken