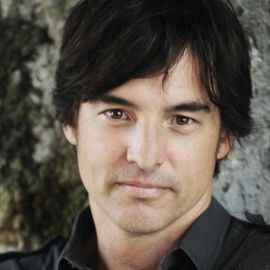 Keni Thomas
Ranger in the "Blackhawk Down" Mission, Award-Winning Country Music Artist, Spokesperson for The Hero Fund
In the summer of 1993 Sergeant Keni Thomas was deployed to Mogadishu Somalia with the 3rd Ranger Battalion as part of an elite special operations package called Task Force Ranger. Their mission was to find a capture a criminal warlord named Mohammed Farrah Aideed. On the 3rd of October, Keni and his fellow rangers distinguished themselves in an eighteen hour fire-fight that would later be recounted in the highly successful book and movie "Blackhawk Down". Nineteen Americans gave their lives and 78 were wounded in the worst urban combat seen by US troops since WWII.
A powerful speaker, Keni captivates audiences from beginning to end as he tells the incredible story of extraordinary individuals and how they fought to bring each other home. Drawing from his experiences on the battlefield, Keni inspires people to achieve greatness by stressing the importance of outstanding leadership at every level, even if the only person you are leading is yourself. His message of "Train as you fight - Fight as you train and Lead By Example" epitomizes the Ranger motto "Rangers Lead the Way!"
Keni sums it up like this, "Leadership has never been about the rank or the position you hold. It's about the example you set. There are people to your left and to your right who are counting on you and its up to you to deliver. But you will only be as good as you prepared yourself to be."
After Mogadishu, Sergeant Thomas volunteered for one more enlistment in the Army. He became an assistant team leader for a six-man ranger reconnaissance team. He earned his master parachutist rating with over 400 military free fall jumps. He completed the Special Forces Combat Diver course, became an Advanced EMT and was one of ten Americans to complete the Belgium Commando Course.
Keni got out of the Army to pursue his music career and now works full-time as an award winning country music recording artist and songwriter in Nashville. He and his band Cornbread were featured in the movie "Sweet Home Alabama" and his music can be heard on country stations nationwide. Keni continues to serve our troops with regular tours to Iraq and Afghanistan.
He is a regular guest on all the major news networks as a military analyst and was also a military advisor for the Mel Gibson movie "We Were Soldiers". He has been recognized by the President of the United States, by Congress and has been awarded the American Patriot Award. But Keni is most proud of his appointment as a national spokesperson for the Hero Fund and the Special Operations Warrior Foundation. They provide college educations to the children of our special operations personnel killed in combat or training.
"Our special operations warriors are the tip of the spear. Their's is a dangerous and high risk mission" says Thomas. "Because of that, they're losses are disproportionately high when compared to the rest of our military. Taking care of their kids, is the least we can do. It's what those dads would have wanted."
Keni Thomas is a graduate of the University of Florida, and the recipient of the bronze star for valor.
Videos
---
Speech Topics
---
GET IT ON! WHAT IT MEANS TO LEAD THE WAY
The Ranger motto is Rangers Lead the Way. Leadership is the core of every skill developed as a Ranger. But, leadership is not a position but rather an example set by every Ranger. Whether approaching the beaches of Normandy or the mountain ranges of Afghanistan, the world is made better when leadership is owned by each member of the team.
Keni Thomas' stories of Task Force Ranger are extraordinary examples of leadership. And, the stories are not about Generals, Colonels or Captains. For example, Private David Floyd was in charge of one person that day - himself. But his leadership and example saved lives.
In the pace of life, it is easy to lose perspective on our value to others. Make no mistake: Your presence is crucial! The individuals to the left and right are directly affected by the result of your actions. Each team is a puzzle with invaluable pieces.
When you raise your hand or assume a task, you have put on the "uniform". Duty follows that responsibility. Good is never enough because better is expected.
Keni Thomas helps attendees see themselves in the light of extraordinary. It is a choice made by many each day to impact those around them.
It is the ultimate definition of LEADING THE WAY...
TRAIN AS YOU FIGHT, FIGHT AS YOU TRAIN
Special Op training is based on this principle: You are only as good as your preparation. When the entire team embraces this philosophy, the standard is high, and the hard work is done in advance of the moment.
While perfection is not attainable, it is always the goal! Tough, realistic training scenarios provide confidence in your training. The day the team is called to "Get it On", the unit is prepared and ready. The Boy Scouts are right - Be Prepared!
For those in assigned leadership, confidence in your team's execution and abilities is built through training. General Patton once stated, "The single most important characteristic in a great soldier is self-confidence." Self-confidence is based upon trust, and trust must be gained by situational proof.
Keni Thomas' stories of Task Force Ranger are extraordinary examples of leadership and training. 19 Americans died and 78 were wounded in one of the worst urban combat situation since WWII. Without training and leadership, many more American lives would be lost.
BREAK-OUT SESSIONS (USED IN CONJUNCTION WITH KEYNOTES)
"In forty hours I shall be in battle, with very little information, and on the spur of the moment will have to make the most momentous decisions. But I believe that one's spirit enlarges with responsibility and that, with God's help, I shall make them and make them right." (General George Patton)
In combat, you rarely have the luxury of time. Nor do you all bits of information needed to make your plan and direct a course of action. We give you the knowledge to lead your way through extraordinary situations, utilizing a tried and true battlefield decision-making process. Our full course can be broken down into small yet effective blocks of instruction or breakout sessions where practical exercises and scenario creations help expand your leadership skills and decision-making abilities.
-Leadership 101: What it Means to Lead the Way Now you are in charge. What does that mean? What is the difference between Leadership and Management? Why is it important? What is a good Leadership model to follow... and more.
-Leadership Practices, Gaining Trust and instilling confidence. It's hard to lead a cavalry charge if you think you look funny on a horse. In order for people to believe and trust in you as a leader, they have to have confidence in YOU. Great leaders understand that instilling confidence is how you build TRUST. Leadership Practices will give you tangible skills that you and your team will need to earn trust and instill confidence in others. When you are confident, they are confident and the team becomes stronger.
-Introduction to the Decision Making Process In this session, we will introduce you to the Decision Making Process, and most importantly, Problem Analysis, the first step in the Decision Making Process. We will talk about Deliberate planning versus Hasty Planning and how they are different. We will give you the tools to conduct Hasty Planning in your environment.
-Practical Exercise Based on time, we will break into groups of 4-5 and conduct a practical exercise using the tools we discussed in the Decision Making Process. Together we plan a mission and react accordingly as the situation changes. Some groups will brief their products at the end of the class.
TRAINING AND HANDS-ON PROGRAM IN LEADERSHIP DEVELOPMENT
There is a substantial difference between leadership and management. Leadership has never been a position. It is the example you set. How you choose to set that example directly affects the people on your left and on your right. You may think that lives are not on the line in your chosen profession. If so, you are undervaluing yourself and the impact you have on those around you. We would remind you that Lives are always on the line! People are always affected by what you choose to do or not to do. And when the hard times hit, which they always will, people will look to you for purpose, direction and motivation. How will you know what to do if you have not been taught and not done the hard work in advance? What will your leadership style say about you? Learn to lead and lead well.
Our team of instructors have over 3 decades of combat experience in the upper echelons of military special operations to include Delta Special Forces commanders, black ops helicopter pilots, and elite Army rangers. Through their shared battlefield experience, we have developed a highly effective program to safely provide the necessary hardship and mentorship to challenge your team to become successful leaders in all aspects of their job and life. We take the principles of military special operations and translate them into the corporate environment making each step easy to understand and apply to your day to day calling. Whatever the task assigned, you and your team will now have an uncommon understanding of how to effectively lead people in the most stressful of situations.
While understanding the concepts of leading under fire may be easy, the work and effort required to successfully complete our course is not. Our goal is to remove comfort zones - personality and leadership style are your only remaining tools. Through shared hardship and overcoming obstacles together, confidence is built. As confidence grows, the team becomes stronger. Great leaders understand this. General Patton said the single most important characteristic in a great soldier is self-confidence. Instilling that confidence is about building trust at many different levels. And trust is something that must be gained. It cannot be issued.
Books
---
Related Speakers View all
---
J.R. Martinez

Actor, Best-Selling Author, Motivational Speaker, Ad...

Story Musgrave, M.D.

Retired NASA Astronaut; Physician & Professor at Art...

Scott O'Grady

Former U.S. Air Force Captain, Fighter Pilot Who Sur...

Carey Lohrenz

First Female F-14 Fighter Pilot in the U.S. Navy, T...

Oz Sanchez

Retired Marine & Two-time Paralympic Gold Medalist

Shoshana Johnson

First African American Woman POW in U.S. War History

Rocky Bleier

Former NFL Football Player, Wounded Vietnam Veteran ...

Rob Waldo Waldman

Decorated Fighter Pilot; Power of Relationships & Tr...

Mike Abrashoff

Former Commander of USS Benfold & Author of "It's Yo...

Heath Calhoun

Alpine Skier & Veteran of the United States Army

Jocko Willink

Retired Navy SEAL Officer & Author of "Extreme Owner...

John Izzo, PhD

Leadership Expert & Bestselling Author

Coach Ken Carter

Coach, Author, Educator & Inspiration for the Film "...

Becky Halstead

First Female Graduate of West Point to Reach General

Erin Gruwell

Founder & Executive Director of the Freedom Writers ...

Olympia LePoint

Award-Winning Rocket Scientist, Self-Help Author & H...

Montel Williams

Emmy Award-Winning Talk Show Host Best Known For "Th...

Jim Morris

Known for His Brief MLB Career & Subject of Disney's...

Consuelo Castillo Kickbusch

U.S. Army Veteran, Author

Eduardo Briceño

Growth Mindset and Improvement Expert; Co-Founder of...
More like Keni