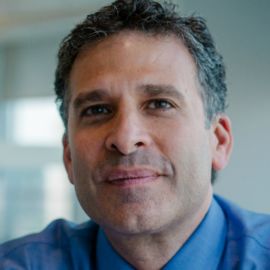 Kenneth Ginsburg
Pediatrician; Professor at Children's Hospital of Philadelphia and the Perelman School of Medicine at the University of Pennsylvania
Kenneth R. Ginsburg MD, MSEd, is a Professor of Pediatrics at Children's Hospital of Philadelphia and the Perelman School of Medicine at the University of Pennsylvania. He practices social adolescent medicine — medicine with special attention to prevention and the recognition that social context and stressors impact upon both physical and emotional health. The theme that ties together his clinical practice, teaching, research and advocacy efforts is that of building on the strength of teenagers by fostering their internal resilience.
Dr. Ginsburg is the Co-Director of the Center for Parent and Teen Communication, which promotes the health, character and well-being of adolescents through education, research and advocacy. He is also the Medical Director for Covenant House, Pennsylvania, a care system that serves homeless, street and marginalized youth in Philadelphia.
He developed the teen-centered method, which is a mixed qualitative/quantitative methodology that helps youth to generate, prioritize and explain their own proposed solutions to social problems and to teach clinicians how to better serve them.
In addition to his research publications, he also has five parenting books including, Raising Kids to Thrive: Balancing Love with Expectations and Protection with Trust, Building Resilience in Children and Teens: Giving Kids Roots and Wings, and Letting Go with Love and Confidence, all published by the American Academy of Pediatrics (AAP). He is also the author of Reaching Teens: Strength-Based Communication Strategies to Build Resilience and Support Healthy Adolescent Development, a comprehensive multimedia toolkit published by the AAP.
Dr. Ginsburg lectures widely to national and international parent and professional audiences. He has also worked closely with The US Military, The Boys and Girls Club of America and The National Congress of American Indians to deepen the role of resilience-building strategies in their programming.
Videos
---
Related Speakers View all
---
James Garbarino

Author, Psychologist, Expert on Violence & Children;...

Toby Cosgrove

Former CEO & President at Cleveland Clinic

Chandra Ghosh Ippen

Associate Director & Dissemination Director of the C...

Robin Berzin

Founder & CEO of Parsley Health

Dr. Joel Selanikio

Award-Winning Physician, Health & Technology Activis...

Dr. Jennifer Ashton

Leading Women's Health Expert & Chief Medical Corres...

Allison Massari

Executive Coach, Entrepreneur, Visual Artist & Burn ...

Alfie Kohn

Author & Speaker on Human Behavior, Education, & Par...

Priti Krishtel

Co-Founder & Co-Executive Director of I-MAK; Health ...

John Mattison

Chief Medical Information Officer & Assistant Medica...

Raj Panjabi

Co-Founder & CEO, Last Mile Health; Assistant Profes...

Thomas Insel

Neuroscientist and Psychiatrist; Former Director of ...

Marty Makary, M.D.

Healthcare Futurist, Johns Hopkins Surgeon & Profess...

David Williams

Professor of Public Health at Harvard University

Adewale Troutman, MD, MPH, MA, CPH

President, American Public Health Association (APHA)...

David Agus

Professor of Medicine and Engineering at the Univers...

Shereef Elnahal

President and CEO, University Hospital

Robert Redfield

Director of the Centers for Disease Control and Prev...

Jonathan Goldfinger

Pediatrician; Member of California Surgeon General A...

Jeet Guram

Senior Advisor to the Administrator at the Centers f...
More like Kenneth