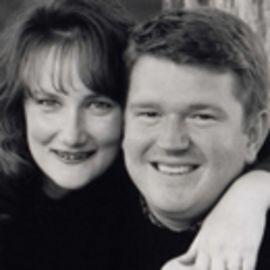 Kenny and Bobbi McCaughey
Inspirational Speakers, Parents of Septuplets
Kenny and Bobbi McCaughey are two of the most celebrated parents in America. As parents of the world's first living and healthy septuplets, they have lived in the midst of the media spotlight since their seven new children arrived. They have graced the covers of America's leading magazines and are featured regularly by the most prestigious news programs.
Born and raised in the quiet, day-to-day routines of small-town America, their life has changed dramatically. But the primary focus of daily living is more about chasing down curious toddlers, potty training, getting the laundry done, multiple weekly grocery store trips, and finding time to keep their marriage alive and healthy than anything else.
In the challenges are also the blessings. They have a lot to be thankful for, not the least of which is their optimistic outlook on life. "I think we're the last of the big families," Kenny says, "and a lot of people will be watching to see how we handle things, how we parent, and what it takes for a family to work together." Part of that is common sense survival, but all of it requires faith and a steady commitment as a husband and father, and wife and mother.
Volunteers, friends and family from the church and community of Carlisle, Iowa, still participate as caregivers for the septuplets, their five year old sister, Mikayla, and for their parents. Kenny and Bobbi take Friday evenings for "date-night" to give their marriage and relationship a weekly boost and time to grow.
Their first book, Seven from Heaven (November 1998) appeared on the New York Times Bestseller list and Bobbi has written a second book, Celebrating the Wonders of Motherhood (April 1999). The McCaughey Septuplet Sweet Dreams Lullaby CD released in the fall of 1999 and was produced by Grammy award winner, Brown Bannister.
While their world has changed, they have remained true to the principles on which they have based their lives. And that is why the world wants another peek through the window of their souls to the fine little children growing up in a house of love.
Related Speakers View all
---
Keith Ferrin

President of That You May Know Ministries

River Jordan

Novelist & Playwright Known for "Praying for Strangers"

Eric Metaxas

NYT Best-Selling Author & Host of the "Eric Metaxas ...

Tom Bowen

Served with the Search & Recovery Teams at the World...

Nancy Stafford

Speaker, author, and actress, speaks on life transfo...

Mike Yankoski

Author of Under the Overpass

Louise Duart & Squire Rushnell

Comedic Impressionist & Author, Speaker, TV CEO

Lisa Whelchel

Author, Founder of Momtime Ministries & Actress Know...

Lisa Bentley

Author/Speaker, Co-found of Harmony Outreach

Jorge L. Valdes, Ph.D

From corruption of the drug underworld to transforme...

James Ryle

Founder of TruthWorks Ministries

Gigi Graham

Women's Speaker, author, Daughter of Dr. & Mrs. Bill...

Frank Peretti

Motivational Speaker and Best Selling Christian Author

Deidre Pujols

Co-Founder of The Pujols Family Foundation; Wife of ...

David Aikman

Best-selling author & former TIME Magazine Sr. Corre...

Darrell Scott

Father of Rachel Joy Scott, A Victim at Columbine High

Danny Wuerffel

Heisman Trophy-winning Quarterback & Philanthropist

Dale Beaver

Former Winston Cup/Nextel Cup Chaplain

B.J. Weber

New York Fellowship Founder - Former Yankee Chaplain

John Trent

Author, Speaker, & Relationship Expert
More like Kenny