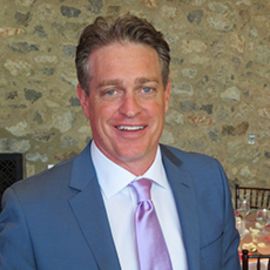 Kevin Cherilla
Founder of K2 Adventure Travel, Mountaineer, Motivational Speaker & Disability Advocate
Kevin Cherilla has had the privilege of working with thousands of people from all walks of life for the past 20 years. Whether in the classroom, the boardroom or on the mountain, his tailored messages and themes are delivered for maximum impact to diverse audiences. From students to educators and employees to corporate executives, Kevin's engaging, energetic and educational programs are perfect for reaching young people and adults through lessons and experiences that directly apply to their everyday lives:
• Value the diverse qualities in every team member • Learn when to lead and when to follow • Achieve and appreciate success regardless of the odds against you • Inspire vision, hope and accomplishment in the minds of those who have given up • Set real goals that are beyond the ordinary
As a business owner, premiere educator and mountain guide of twenty years, Kevin understands how people learn and what kind of presentation will resonate with specific audiences. Kevin's programs not only captivate listeners but deliver essential lessons to inspire everyone. He offers these presentations for international corporations, foundations, universities and schools. Each one is unique and tailored to their needs, themes and schedule. Kevin's presentations include breathtaking expedition photos and award winning video footage from around the world including the summit of Mt. Everest and Mt. Kilimanjaro. His teams have been featured on the front cover of TIME, Outside, Climbing and *Scholastic News magazines, on the Oprah Winfrey Show, The Tonight Show with Jay Leno and world news programs including CNN.
Kevin started K2 Adventure Travel to engage and challenge individuals by reaching their goals of climbing mountains around the world. Many of his clients have individual disabilities such as amputations, blindness, paralysis and muscular dystrophy. His teammates have ranged in age from 9 to 85 years old and have had a phenomenal success rate of over 95%.
In January 2012, Kevin was given one of his greatest and most rewarding climbs to date. He was the expedition leader for Kyle Maynard, the first quadruple amputee to summit Mt. Kilimanjaro. Kyle won an ESPN, ESPY Award for this tremendous accomplishment. In 2016 Kyle climbed the highest peak in the western hemisphere, Mt. Aconcagua in Argentina under Kevin's leadership, and was subsequently featured in a Nike commercial during the 2016 Summer Olympics.
Some of Kevin's other expedition successes include leading 8 blind climbers up Mt. Kilimanjaro in 2009 which broke four world records. Kevin was a member of Erik Weihenmayer's historic summit of Mt. Everest in 2001. Erik is the only blind person in history to reach the summit. On June 5, 2007, Kevin fulfilled one of his life-long dreams and summited Mt. Everest himself.
In 2009, Kevin co-founded K2 Adventures Foundation, a qualified national and international 501(c) (3) non-profit organization. K2's mission is to care for children, adults and families with special needs and or life changing medical circumstances by providing services, support and funds that will be used for educational and medical enrichment. K2 has had many projects over the years including building a children's medical and dental center in Tanzania, 3 schools in Nepal and working with a school for severely disabled children in Peru.
Videos
---
Speech Topics
---
Kevin Cherilla draws from his academic background and personal and professional encounters as he tailors his program to meet your organizational realities, challenges, and conference themes. His presentations include breath-taking expedition photos and award-winning video footage of his expeditions, inspiring and leading teams, and reaching individual and team goals. In his presentations, Cherilla addresses leadership, overcoming adversity, shattering expectations, goal-setting, and motivating a group.
Teamwork: Working with People of Diverse Backgrounds
Kevin Cherilla has led more than 300 people on international trips and expeditions across six continents and 20 countries. His teammates have ranged in age from 11 to 80 years-old, and they have had a phenomenal success rate of summiting the mountains they ascend of over 92%. (Comparatively, of the 25,000 people from around the world each year that try to summit Mt. Kilimanjaro, only about 40% succeed.) In his presentations, Cherilla discusses leading diverse teams successfully, goal setting, learning from failures, taking risks, making sacrifices, persevering through tough times, and accomplishing monumental goals.
Shattering Expectations: Overcoming Challenges and Obstacles
Kevin Cherilla has led teams of disabled people to summit the world's tallest mountains. Many of his clients have disabilities such as blindness, paralysis, and muscular dystrophy and vary widely in age. During his presentations, he addresses how he leads and motivates people past their perceived boundaries in order to achieve the seemingly impossible. He also addresses goal setting, learning from failures, taking risks, making sacrifices, persevering through tough times, and accomplishing monumental goals.
Related Speakers View all
---
Jake Norton

World-Renowned Climber, Photographer & Humanitarian

Alan Hobson

Author, Mt. Everest Climber & Cancer Survivor

Jordan Romero

Author & Youngest Person to Climb Mount Everest

Conrad Anker

Mountaineer & Captain of The North Face Climbing Tea...

Ed Viesturs

Mountaineer, Known as One Of the U.S.'s Foremost Hig...

Paul Deegan

Motivational and Leadership Expert, Everest Mountain...

Stephen Koch

Professional Speaker, Climber, Snowboarder & Mountai...

Amy Van Dyken-Rouen

Six-Time Olympic Gold Medalist Swimmer

Stacy Allison

Businesswoman, Adventurer, Author & Motivational Spe...

Bonita Norris

Adventurer & Author of "The Girl Who Climbed Everest"

Adrian Ballinger

Founder & Head Guide of Alpenglow Expeditions; Alpin...

Tommy Caldwell

Climber, Best Known for Being the First to Free Clim...

Jeff Salz

Explorer, Anthropologist, TV Personality & Author

Anthony Robles

2011 NCAA Wrestling Champion and Author of "Unstoppa...

Mark Pfetzer

Climbed Mount Everest at Age 16; Inspirational Speak...

Neal Petersen

History-Making Extreme Adventurer, Award-Winning Aut...

David Breashears

Everest Adventurer, Filmmaker & Senior Lecturer at M...

Eric Alexander

World-Class Skier, Climber & Mountaineer

Emily Harrington

Professional Rock Climber & Adventurer

Alex Honnold

Professional Rock Climber & Star of the Academy-Awar...
More like Kevin