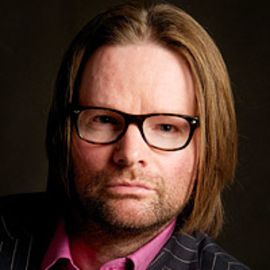 Kevin Dutton was born in London in 1967. He has a Ph.D in psychology, and is an expert on the science of social influence. He is a research psychologist and honorary affiliated member of the Calleva Research Centre for Evolution and Human Sciences, Magdalen College, University of Oxford.
Kevin's first book, "Flipnosis -- The Art of Split Second Persuasion," first published in 2010 and since translated into 18 languages, documents his quest -- from the political genius of Winston Churchill to the malign influence of some of the world's top con artists -- for the psychological 'DNA' of persuasion.
His second book, "The Wisdom of Psychopaths - Lessons in Life from Saints, Spies and Serial Killers" was published in the UK (William Heinemann) in September 2012 and in the US (Farrar, Straus and Giroux) in October 2012. In it, Kevin explores the positive side of being a psychopath, and discovers, first hand, in a groundbreaking 'How to make a psychopath' experiment, what it's like to be one. The effects have since worn off.
Related Speakers View all
---
BJ Fogg

Founder & Director of the Stanford Behavior Design L...

Shawn Achor

Harvard Professor, Researcher & Positive Psychology ...

Thomas Gilovich

Behavioral Scientist, Expert on Decision Making; Pro...

Sally Hogshead

Marketing, Persuasion & Personal Branding Expert; Au...

Robert Cialdini

CEO & President of Influence at Work; Leading Expert...

Seth Mattison

Co-Founder & Chief Movement Officer of Luminate Labs...

Simon Sinek

World-Renowned Leadership Expert & Best-Selling Author

Seth Godin

Business & Marketing Expert & New York Times Bestsel...

Parag Khanna

Leading Geo-Strategist & Author

Chip Conley

Strategic Advisor for Hospitality & Leadership at Ai...

Erin King

Amazon Best-Selling Author of "Digital Persuasion: S...

Jocko Willink

Retired Navy SEAL Officer & Author of "Extreme Owner...

Nir Eyal

Bestselling Author & Expert on the Intersection of P...

John Searle

American philosopher, currently the Slusser Professo...

Greg McKeown

CEO of THIS Inc. & Best-Selling Author of "Essential...

Deborah H. Gruenfeld

Professor, Leadership & Organizational Behavior at t...

Paul Lewis

The Guardian's Washington Correspondent. 'Best Twitt...

John Meluso

The World's only,Human Bridge, "Connect and Grow Wea...

Jeff Brown

Leading Performance & Leadership Authority

Andy Cope

Well-being Expert; Known as "Dr. of Happiness;" Trai...
More like Kevin