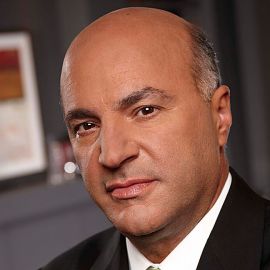 Kevin O'Leary
Founder of O'Leary Financial Group; Venture Capitalist & Financial Expert; Known for Being A Shark on"Shark Tank"
Kevin O'Leary is a self-made millionaire and TV personality. He is currently one of the main "sharks" on the hit reality show "Shark Tank," and is constantly featured as a business and economic expert across all cable and network news.
O'Leary was born to a middle class family in 1954. The combination of O'Leary's mother's family heritage as merchants and his father's Irish charisma truly meant that O'Leary was born for business. O'Leary's learned most of his business intuition from his mother. She taught him key business and financial insights from an early age. These became O'Leary's core philosophies, and the pillars upon which he would one day build his empire.
As a university student, O'Leary's innate business sense led him along several different paths – including some very unusual, very entrepreneurial ways of making a profit.
Not long after he finished his MBA, O'Leary had a meeting that changed his life forever. He met a man who had a strange idea for a software product – an idea with huge, high-profit potential that O'Leary immediately recognized.
After years of ups, downs, sacrifices, challenges, and lessons learned — not to mention a critical phone call that nearly cost him everything — the opportunity that O'Leary saw eventually turned into a computer software giant that was acquired for more than $4 billion dollars.
After his extraordinary success at the software company he founded – and a difficult period of obstacles and legal disputes – O'Leary eventually found himself on television, quickly becoming a sought-after host and personality on a range of shows – including Discovery's Project Earth, CBC's Dragons' Den, and ABC's Shark Tank.
O'Leary has since launched O'Leary Funds, an investment fund company; O'Leary Fine Wines; and a best-selling book series on financial literacy.
In 2014, O'Leary founded O'Leary Financial Group – a group of brands and services that share his guiding principles of honesty, directness, convenience, and above all, great value.
As a self-proclaimed "Eco-preneur," O'Leary's focus is on investments that make money and are environmentally friendly. He is the founding investor and director of Stream Global and is currently working as the entrepreneur/investor co-host for the Discovery Channel's, Discovery Project Earth, a new program that explores innovative ways man could reverse global warming.
O'Leary has developed a cult following among financial professionals and smart investors with his pull-no-punches look at the good, the bad and the ugly with respect to the markets and investment opportunities. Within his various television roles, his opinionated nature has won over millions, and he continues to impress with his audiences with professional tips and personal anecdotes.
In addition to serving on the executive board of The Richard Ivey School of Business at the University of Western Ontario, O'Leary is a member of the investment committee of Boston's Hamilton Trust and an investor and director of EnGlobe.
Speech Topics
---
An Evening with Kevin O'Leary
Kevin speaks openly about his upbringing, including important lessons he learned from his parents and from his stepfather.
He also delves into what it's like to be a Shark, including his relationships with the other Sharks and what it takes to get a deal on the show. Kevin's years of experience as a successful repeat entrepreneur are a valuable source of insights.
Above all, Kevin ensures that his audiences understand his fundamental, personal beliefs about success, entrepreneurship, money, hard work and sales. The O'Leary fundamentals are important lessons for individuals of all ages, professions and personalities.