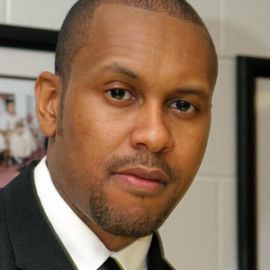 Kevin Powell is one of the most acclaimed political, cultural, literary and hip-hop voices in America today. He is the author of 11 books, including Barack Obama, Ronald Reagan, and the Ghost of Dr. King: Blogs and Essays. Among his upcoming books will be a memoir of his very difficult childhood and youth, to be released in 2015 by Simon & Schuster; and in 2016 he will publish a biography of Tupac Shakur, the late rapper and controversial American icon.
Powell's writings have also appeared in CNN.com, Esquire, Ebony, The Huffington Post, The Washington Post, Rolling Stone, The Guardian, ESPN.com and Vibe Magazine, where he worked for many years as a senior writer, interviewing public figures as different as Tupac Shakur and General Colin Powell. Powell also routinely appears in interviews on television, radio, and in print and on the internet discussing major issues of our time.
As an activist, Powell is the president and co-founder of BK Nation, a new national organization — progressive and multicultural, and focused on matters like education, civic engagement and leadership training, health and wellness, social media, arts and culture, and job and small business creation. He was also a Democratic candidate for Congress in Brooklyn, New York, his adopted hometown, in 2008 and 2010.
Powell routinely travels America and globally as a public speaker, at colleges and corporations, at various institutions, and in a wide range of diverse communities. His most recent speaking engagements include stops at Microsoft headquarters, Stanford University, the U.S. Department of Justice, the 50th Anniversary Celebration of the "March on Washington," a one-week residency at the American University in Nigeria, visiting lecture positions at Central State University and Virginia State University, and, a Hip-hop Scholar-in-Residence at the Schomburg Center for Research in Black Culture; and on behalf of the U.S. State Department, a national tour of Japan on the relevance of Dr. King's famous "I Have A Dream" speech in the 21st century. Powell also visited Wales in the United Kingdom to do a series of lectures and workshops on the 100th birthday of 20th century poet Dylan Thomas, and the connections between Welsh and American poetry and spoken-word traditions. As a result, he has been named the International Ambassador for the Dylan Thomas Centennial in America for 2014.
Moreover, as a pop culture curator, Powell produced the very first exhibit on the history of hip-hop in America, at the Rock and Roll Hall of Fame in Cleveland, Ohio, which also toured America and overseas. As a humanitarian, his work includes local, national and international efforts in the movement to end violence against women and girls — including a very well-regarded appearance on The Oprah Show highlighting domestic violence — and he has done much philanthropic and relief work, ranging from Hurricane Katrina to earthquakes in Haiti and Japan, to Superstorm Sandy in New York, to his annual holiday party and clothing drive for the homeless every December since 9/11.
As an acknowledgement of Powell's life of public service and his dedication to literature and the arts, Cornell University recently became the owner of The Kevin Powell Collection, documenting nearly 30 years of his work to date in print, photos, videos, books, handwritten notes and speeches, and select memorabilia.
Videos
---
Speech Topics
---
The Leadership We Are Waiting for Is Us: How to Become an Effective Leader

How to Build Corporate Responsibility & Trust in the 21st Century

Diversity 101: Creating a Healthy & Successful Workplace

From Rosa Parks to Barack Obama: Civil Rights in America

Lets Get It Started: Redefining American Manhood

History Is a People's Memory: The Importance of Black History Month

Someday We'll All Be Free: Young America, Voting & the New Activism
Redefining Manhood: Changing Us, Changing The World
In response to continuous issues of domestic violence, sexual assault, and Columbia student Emma Sulkowicz carrying a mattress around campus to protest her on campus rape, Kevin Powell will lead conversations that will focus on where definitions of manhood come from (home, religious institutions, sports, pop culture, mass media, etc.), how they help us as males, and how they stunt and hurt us as males. He will examine our own journeys and also those we've witnessed of famous or iconic figures in our society. The dialogue will feature an honest conversation about gender, violence against women and girls, and the role we men play, since most cases are male violence against females. And how we males can become allies to women and girls in the struggle against all forms of gender violence, abuse, and oppression. Kevin will cover: what is power, what is privilege, who has it and why, and who does not have it, and why. He will also examine how these messages are reinforced through popular culture, including hip hop, college campus life, and sports. Finally Kevin will draw on his own experiences with gender violence, as well as the very personal and transparent writings he has done on the topic.
Are Dr. King & His "Dream" Still Relevant?: Community, Social Media, & the New Activism
In this thought-provoking and interactive lecture Kevin Powell, one of America's most engaging political, community, literary, and cultural leaders and voices, takes the audience on a journey from Dr. King to Ferguson, Missouri, from civil rights to hiphop, from race and power to gender, class and all the many ways we are different, and the same. Drawing on his own personal experiences as a product of post-Civil Rights America, Kevin discusses his family's history in the Jim Crow South, his childhood as a product of integrated schools, and how and why Dr. King's life and work became relevant to him—and why it was not for several years. Connecting the dots between elders and young people, Kevin also dives into the tricky terrain of twitter, Facebook, and other social media as the spaces of the new activism, and why we should be paying attention to these new tools for change in the 21st century.
The Leadership We Are Waiting for Is Us: How to Become an Effective Leader
Powell feels he has been a leader his entire adult life, practically from the moment he set foot on the campus of Rutgers University in the mid 1980s as a teenager. Inspired by the presidential campaigns of Jesse Jackson and the anti-apartheid movement filtering through colleges nationwide, Powell threw himself into the role of student and youth leader on campus and off. Over time those early experiences have been translated into very visible and influential careers at MTV and Quincy Jones' Vibe magazine, as one of the most prominent voices of the hip-hop generation, and in New York City as a very active and well-respected community leader, trendsetter, business owner, and mover and shaker. Most recently Powell ran for Congress in Brooklyn, New York, and plans to seek elected office again in the near future. Indeed, Powell's varied experiences in academia, media, corporate America, politics, and the arts and entertainment worlds have afforded him the unique opportunity to develop a comprehensive action plan for leadership and leadership development in corporate America. This simple and accessible approach to leadership development includes a step-by-step guide on how individuals can identify their inner leadership qualities and skills, and how best to highlight those qualities and skills for the good of themselves and their company.
How to Build Corporate Responsibility & Trust in the 21st Century
Kevin Powell has consulted and worked with a number of major corporate brands through the years, including Coca-Cola, Best Buy, Nike, VirginMobile, Clear Channel Communications, Nissan, Microsoft, and Random House. In this keynote presentation, Powell details moments in American history of corporate generosity; highlights some of the issues and crises affecting the American social fabric in these early days of the 21st century; and offers a concrete and multidimensional game plan for corporate involvement in the community, including ways a corporate entity can boost brand awareness or repair their brand image in the aftermath of not so positive media attention while giving back.
From Rosa Parks to Hurricane Katrina: Civil Rights in America
Kevin Powell, one of the leading voices in America today, not only pays homage to the Civil Rights Movement, which greatly benefited his generation, the hip-hop generation, but he also traces the historical connections between the Civil Rights era and the hip-hop era. From Emmett Till's murder to Hurricane Katrina, from dr. King's Poor People's Campaign to the birth of hip-hop in the late 1960s/early 1970s, Powell tackles the tough questions of what was won and what was lost as a result of the Civil Rights Movement, why there has been vast class and generational gaps in Black America since the Civil Rights era, and what Hurricane Katrina brought to the surface as we watched it unfold on television, as many of us watched the Civil Rights struggles on television. Moreover, because Powell has been a central figure in Hurricane Katrina relief efforts, including trips, himself, to New Orleans, Baton Rouge, and Houston in the days immediately following the hurricane and flooding, he offers firsthand accounts and personal insights to what went wrong, how what went wrong falls into the ongoing struggles for Civil Rights, and why Mrs. Rosa Park's recent death is a reminder of the work ahead.
Let's Get It Started: Redefining American Manhood
Powell would speak for about 45 minutes on his lifelong battles with sexism, dating to his years as a boy, as an adolescent and teen athlete, as a male very influenced by popular culture and street culture. Powell talks very candidly about the maturation of his sexist behavior in college, culminating with his pulling a knife on a fellow student.
His speech is not simply about discussing the problems, but also offering practical, proactive solutions to get males to rethink how we have defined manhood our entire lives, often at the physical, spiritual, and emotional expense of women. Indeed, he will talk very honestly about his periods of deep denial, about his counseling sessions, about the challenges he was given by women, about the books he began to read, and how all those things began to broaden my thinking and, in a sense, push him toward healing (an ongoing thing), consistent self-reflection, and, finally, the recognition that he had an obligation to speak out against any sexist behavior, whatever form.
Dreaming America: Barack, Pop Culture & the New Activism
Related Speakers View all
---
Donna Brazile

Veteran Political Strategist, Bestselling Author, Fo...

Julianne Malveaux

Author, Economist, Founder & Thought Leader Economic...

Juan Williams

New York Times Best-Selling Author, Fox News Politic...

Tavis Smiley

Broadcaster, Author, Publisher, Advocate, and Philan...

Van Jones

CEO of REFORM Alliance, CNN host, Emmy Award-winning...

Asra Nomani

Journalist & Author, Women's Rights Activist

Hill Harper

Actor, Author & Philanthropist; Best Known For "CSI:...

Montel Williams

Emmy Award-Winning Talk Show Host Best Known For "Th...

Angela Davis

Feminist, Social Activist, Professor & Writer

Ellis Cose

Award-Winning Journalist & Author

Geoffrey Canada

Inner-City Youth & Education Advocate

Judge Greg Mathis

Civil Rights Activist, Television Personality

Jesse Jackson

Civil Rights Activist & Politician

Catherine Crier

Acclaimed Author, Former Judge, Award-Winning Journa...

Sheryl WuDunn

Pulitzer Prize-Winning Journalist; Co-author of Half...

Archbishop Desmond Tutu

Nobel Laureate & Human Rights Activist

Judge Glenda Hatchett

Former Juvenile Court Judge & Star of "Judge Hatchet...

Common

Award-Winning Artist, Actor, Producer, Musician & Wr...

Bruce George

Poet / Activist

Victoria Rowell

Classically Trained Dancer, Actress on "The Cosby Sh...
More like Kevin