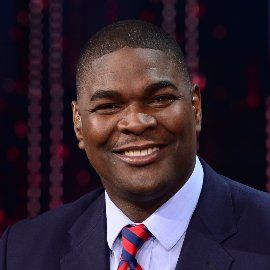 Keyshawn Johnson
Former NFL Wide Receiver, ESPN Broadcaster, Co-Host of "Keyshawn, Jay & Zubin" & Contestant on "Dancing with the Stars"
Keyshawn Johnson is a former American college and professional football player who was a wide receiver in the National Football League (NFL) for 11 seasons. He played college football for the University of Southern California and earned All-American honors. The first pick in the 1996 NFL Draft, he played professionally for the New York Jets, Tampa Bay Buccaneers, Dallas Cowboys and Carolina Panthers. He retired from football following the 2006 season, and in 2009 he became a television broadcaster for the sports channel ESPN. Keyshawn Johnson was a contestant on the 17th season of "Dancing with the Stars" and was the first contestant eliminated from the season. He is a co-host on ESPN's "Keyshawn, Jay & Zubin."
Johnson was part of the 2007 NFL Draft broadcasting team with Chris Berman, Mel Kiper Jr. and Chris Mortensen that aired on ESPN. He became an ESPN analyst for Sunday NFL Countdown and Monday Night Countdown. Within the confines of "Sunday NFL Countdown" and "Monday Night Countdown, Johnson invented a segment called "C'mon Man!" which allows each panel member to pick a moment in the last NFL week "revolving around either the play on the field or unprofessional behavior off it" that one might consider, on some level, either inexcusable or downright laughable.
In November 2008, Johnson was contracted for a weekend TV Series called "Keyshawn Johnson: Tackling Design." The show was on A&E in July 2009 and showcases Johnson's knowledge of interior design to help other people redecorate their homes.
Johnson co-founded First Picks Management in 2005 as a vehicle to pursue his business interests in the food service, hotel and real estate industries as well as venture capital investing. He recruited Harvard Business School MBAs, Glenn and Clarence Mah, as well as his public relations and marketing agent, Ingrid Roberts, to co-lead the organization. Johnson and his management team partnered with National Football League and National Basketball Association athletes, including Warrick Dunn, Dennis Northcutt, Terence Newman, and Joe Smith in developing the investment company.