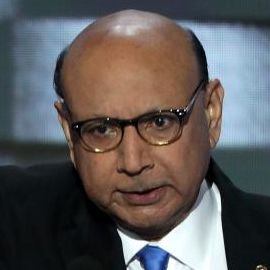 Khizr Khan
Constitutional Rights Advocate; Attorney, KM Khan Law Office
Khizr Khan is a constitutional rights advocate, Muslim American patriot, and Gold Star parent. With Ghazala Khan, he is a parent of three, including the late US Army Captain Humayun Khan, who was killed in 2004 in a suicide explosion in Iraq. Born in Pakistan, Khan attended Harvard Law School and has since practiced law, specializing in commercial civil litigation, electronic discovery, and health privacy law compliance. He became known for his speech at the 2016 Democratic National Convention, when he held up his pocket US Constitution while rebuking then-Republican nominee Donald Trump for his proposed policies. Since then, Khan has spoken out nationally on religious liberty and minority rights.
Khizr Khan is the father of Humayun Khan, an Army captain who was killed in Iraq in 2004. The younger Khan is considered a war hero and was posthumously awarded the Bronze Star and Purple Heart.
Prior to their DNC debut, Khizr Khan and his wife Ghazala had been mentioned by Democratic presidential nominee Hillary Clinton, who called their son "the best of America" in a December 2015 speech in Minneapolis. The Khan family are American citizens, and also Muslim.
Related Speakers View all
---
Maya L. Harris

Former Campaign Chairwoman for Kamala Harris's 2020 ...

Jessika Rovell

Attorney, Naval Intelligence Officer, and Sexual Vio...

F. Michael Higginbotham

Renowned Law Professor, Author and International Pol...

Linda Hirshman

Supreme Court Lawyer, Renowned Expert on Social Chan...

Wendy Davis

Lawyer & Democratic Politician

Richard Rothstein

Distinguished Fellow, Economic Policy Institute & Se...

Gene Healy

Vice President, CATO Institute

Angela Davis

Feminist, Social Activist, Professor & Writer

Carl E. Douglas

Civil Rights, Wrongful Death, Personal Injury, Emplo...

Alec Karakatsanis

Founder and Executive Director of Civil Rights Corps

Leon Rodriguez

Former Director of US Citizenship & Immigration Serv...

Natalie Bridgeman Fields

Founder & Executive Director of the Accountability C...

Menaka Guruswamy

Lawyer & LGBTQ Advocate; Helped Overturn Anti-LGBT Laws

Cary McClelland

Media, Tech and Intellectual Property Lawyer & Autho...

Ría Tabacco Mar

Director of the American Civil Liberties Union's Wom...

Sheryl Winarick

Immigration Lawyer at Blue Dot Advocates

Brian Miller

Director of Legal and Public Affairs at the Center f...

Aditi Juneja

Communicator at Protect Democracy

Tsion Gurmu

Legal Fellow at African Services Committee & Founder...

Zahra Billoo

Civil Rights Attorney & Executive Director, Council ...
More like Khizr