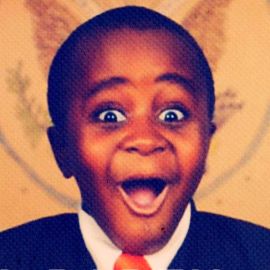 Kid President & Brad Montague
Co-creators of Kid President, the popular web series featured on Rainn Wilson's SoulPancake Youtube Channel
Brad Montague is working to foster creativity and compassion in the next generation. He is the creator of Kid President, the popular web series featured on Rainn Wilson's Soulpancake Youtube channel. With over 28 millions views and a mission to move people into action for the common good, the series has developed a following young and old alike. Brad is also the director of GO! Camp, an experience for young people who want to change the world, and co-founder of Love In Stereo, a collective of artists striving to create work that matters. He lives and works in Tennessee with his wife, Kristi and son Miles.
Robby is Brad's brother-in-law. The two have worked on a variety of projects together, including a CD of songs. The genesis of the presidential series was simple, "I got the idea to dress him up in a suit and demand things because that's his natural thing," says Brad. But it was also in response to the opinionated political posts he was seeing on Facebook.
They created the first Kid President video in July of 2012 out of the simple belief that kids have voices worth listening to. Never did they imagine their journey would take them the places it has. Who knew a little can and string could connect you to everyone from bestselling author Nick Hornby to actor Rainn Wilson or to the President of the United States?
The idea for Kid President came a few years ago. Brad and his wife started a camp for kids who want to change the world, GO! Camp. They were blown away by the ideas and the hearts of the students there. These students wanted nothing more than to leave the world better than they found it. After seeing their creativity and compassion I couldn't help but think - wouldn't it be cool if we listened to kids more?
He's full of life and ideas. Robby has Osteogenesis Imperfecta (OI) a brittle bone condition which has resulted in him having over 70 breaks since birth. What's inspiring about Robby isn't his condition, but the fact that his condition doesn't define who he is. In spite of all he's been through he not only keeps going - he dances.
The two of them work on each episode together. There's no fancy film crew or staff. It's just them having fun and hoping they create something that makes people happier than they were before they clicked play. Their hope is that each episode is received with the same love that started this whole adventure.
As Kid President says, "Love changes everything. So fill the world with it."
Related Speakers View all
---
John Legend

EGOT Winning Musician, Producer & Philantropist

Common

Award-Winning Artist, Actor, Producer, Musician & Wr...

Tavis Smiley

Broadcaster, Author, Publisher, Advocate, and Philan...

Bill Cosby

Influential Comedian and Actor; Starred in "The Cosb...

Bertice Berry

Sociologist, Author and Educator

Killer Mike

Hip-Hop Artist & Activist Focused on Social Inequali...

Sterling Knight

Actor and Musician; Known for his Role on Disney's "...

DeVon Franklin

Award-Winning Film Producer & Author of "Produced By...

Denzel Washington

Actor, Director & Producer Known for "Fences," "The ...

Demi Lovato

Grammy Nominated Singer-Songwriter, Musician, Philan...

Mo Stegall

Global Brand Ambassador, Motivational Speaker, Bests...

Ice-T

Rapper, Record Producer, Actor Known for "Law & Orde...

Fonzworth Bentley

Musician, Author and TV personality; MTV's "From G's...

Magic Johnson

Basketball Hall of Famer, Entrepreneur, Philanthropi...

Nelson George

Author / Filmmaker

Roy Firestone

Award-Winning Journalist, Commentator & Impressionist

Mort Crim

It's time to hear some good news about ourselves and...

Bob Costas

Award-Winning Sportscaster, Broadcaster & Best-Selli...

Spencer Christian

Meteorologist and Television Personality

LeVar Burton

Literacy Advocate & Actor Known for "Roots," " Star ...
More like Kid