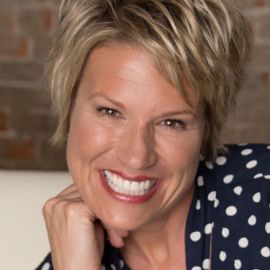 Kim Strobel is an education and leadership consultant, happiness coach, former teacher, and speaker whose work shapes the way people and leaders show up. Educational institutions, businesses, and organizations prioritize their health and well-being so they can reach new levels in their business and their life. As a result, businesses and organizations take massive actions and create positive change in every area.
Strobel is the owner of Strobel Education and she is able to put herself in the shoes of teachers, as she was once one herself. As a leadership consultant and happiness coach, Strobel is deeply passionate about empowering others to live bigger, bolder, braver lives. With her contagious high-energy style, Strobel has a unique ability to empower and embolden her audiences.
Motivational, inspirational, and always approachable, Strobel's "real talk" attitude is a refreshing approach that allows her to authentically connect with people everywhere.
Strobel has taken her vision of reimagining education to audiences across the country and has been a featured speaker at the Innovative Schools Summit in Atlanta and the School Discipline Conference in Las Vegas.
Speech Topics
---
Science of Happiness: Working Happier, Not Harder
When personal happiness increases, the ability to affect positive change in business outcomes, including sales, also increases. You will learn how to retrain the brain toward positive; how to rediscover professional joy; why the conventional happiness formula is wrong; the relationship between happiness and productivity; why employee well-being should be a priority; and the importance of self-care.
Happiness Habits: The 5 Secrets Successful People Know
For too long, it's been assumed that money, professional recognition, and material possessions were the keys to happiness. But decades of research is proving that theory wrong. Happiness fuels success! You will learn how to increase professional and personal positivity; how to create a positive and engaged workforce; the benefits of meaningful social connections; why movement and play are necessary for success; how practicing gratitude creates greater optimism; a 2-minute meditation activity to combat the stresses of multitasking; and how to incorporate happiness habits into even the busiest schedule.
The Power of Belief: Mindset and Success
If you want to create a strong team, one that's motivated for and committed to the achievement of your company's objectives, you want team members who have a growth mindset. A culture that promotes growth mindset will move your business forward and position your business, its brand, and its people for growth, profit, and success. You will learn why placing a high value on continued learning is important; how one's beliefs about their intelligence can affect long-term achievement; how we can change our abilities and how we think and perform; how to create an environment that promotes learning and ensures success; why it's important to "root" for the team to succeed; how growth mindset fosters empowerment, collaboration, and innovation; why employees at growth mindset companies feel they have more potential to grow, learn, and thrive within it; and how many businesses large and small, including Microsoft, are transforming themselves with growth-mindset principles.
The Power of Positivity: Overcoming Negativity and Creating Success
A startling Gallup poll found that only 13% of the workforce is happy in their jobs, which costs companies in the US a staggering $500 billion annually. The reasons why vary. But research shows that when employees work with a positive mindset, their performance experiences a positive transformation, as well. You will learn how a positive mindset improves productivity, creativity, and engagement; how to be a positive outlier; how to be a Positive Polly–and avoid Negative Nellies; how to foster better co-worker relationships; the power of positive energy; and how to change the lens through which you view challenges
Remembering Your Why: Finding Meaning, Purpose, and Passion
For many, being happy in their professional life means rediscovering what first inspired their chosen career path. At every level—entrepreneur, employee, team leader—remembering your individual WHY, and understanding your organization's WHY, provides the momentum to move toward increased fulfillment and success. You will learn what your WHY is; how we lose our WAY when we lose our WHY; how to reclaim your profession and your joy; how to encourage your team to act with intention; how understanding our WHY drives our behavior and pushes us to perform at our natural best; and how to inspire action in yourself, among your co-workers, and with your customers.