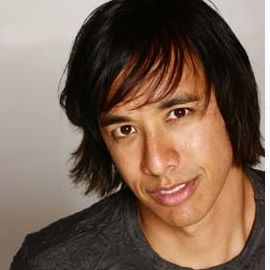 Program Title: What Are You? The Changing Face of America
Migration is rapidly and permanently changing the face of America. Its altering racial makeup, taste in food, clothing, music, the entire perception of itself and the way of life. Kip Fulbeck is the worlds premiere artist exploring multiracial identity and has been featured on CNN, MTV, and NPR, to name a few. An award winning filmmaker, artist, author, and Professor / Director of Arts at UC Santa Barbara, Fulbeck has garnered critical acclaim for his latest book Part Asian, 100% HAPA. Using his own multiracial background as a springboard, Fulbeck confronts media imagery and interracial dating patterns to inspire audiences to explore how our own ethnic stereotypes and opinions on cultural identity are formed, leading one to honestly consider, Who Am I?
Using his own Cantonese, English, Irish, and Welsh background as a springboard, Kip Fulbeck confronts media imagery of Asian men, interracial dating patterns, and icons of race and sex in the U.S., constantly questioning where Hapas "fit in" in a country which ignores multiraciality. His work invites and inspires viewers to explore how our own ethnic stereotypes and opinions on interracial dating, gender roles, and personal identity are formed.
A Professor and Chair of Art and an affiliate faculty of Asian American Studies and Film Studies at the University of California, Santa Barbara, Kip Fulbeck has performed and exhibited in over 20 countries and throughout the U.S., including the Museum of Modern Art, the Singapore International Film Festival, the World Wide Video Festival, PBS, and the Whitney Museum of American Art Biennial. He has twice keynoted the National Conference On Race in Higher Education to standing ovations, directed 13 independent videos, and authored the critically acclaimed boooks Paper Bullets: A Fictional Autobiography and Part Asian, 100% Hapa featuring portraits of multiracials of Asian/Pacific Islander descent with an introduction by Sean Lennon.
Videos
---
Speech Topics
---
Identity 101 – Seeing Others, Projecting Ourselves
In this interactive workshop, participants explore various common non-verbal methods we use to quickly judge and evaluate others – often incorrectly. Using several playful exercises created and popularized by Kip Fulbeck over the past two decades, participants in small groups take turns visually assessing and being visually assessed, revealing not only our own innate biases but also opening up new channels of observation and communication. This workshop is especially popular on college campuses (60 minutes).
From Long Duk Dong to Jeremy Lin and Kevin Wu: Asian American Masculinity in Pop Culture
Since the beginning of film and television, Asian American men have consistently been portrayed negatively. Typically limited to simplistic roles as villains, gangsters, kung fu masters, computer geeks or outright clowns, they are rarely portrayed as fully formed human beings. In this interactive workshop, Kip Fulbeck, dissects these pop culture images and compares them to a new media generation of positive ones, investigating their relation to Asian American dating, marriage, and self-confidence (60 minutes).
Race in the Media – Does It Really Affect Me?
We know all about media stereotypes. But is this recognition enough? Is awareness of stereotypes sufficient to keep them from affecting our everyday lives? In this pop culture-laden workshop, Kip Fulbeck delves into his research on media imagery and its effects on our opinions, attractions, and self-image. From newscasters to reality shows to Tiger Moms, this workshop opens our eyes to the calculated research behind every commercial media decision (60 minutes).
Genes, Lifestyle, & Luck – Understanding Privilege
This workshop navigates the controversial topic of privilege – exploring it in a safe and non-judgmental atmosphere. Each participant partakes in an anonymous survey of their life – from their family to their childhood neighborhood to their opportunities and physical abilities, recognizing how much each of these categories play a part in making us who we are. Emphasis is placed on gaining this awareness as a tool for positive motivation, recognition, and appreciation (15 minutes).
Related Speakers View all
---
Jurnee Smollett

Actress & Singer

Malcolm London

Young Poet, Educator & Activist; Known for his TED T...

LeVar Burton

Literacy Advocate & Actor Known for "Roots," " Star ...

Fonzworth Bentley

Musician, Author and TV personality; MTV's "From G's...

Magic Johnson

Basketball Hall of Famer, Entrepreneur, Philanthropi...

Montel Williams

Emmy Award-Winning Talk Show Host Best Known For "Th...

Jada Pinkett Smith

Actress, Host of "Red Table Talk" & Founder of 100% ...

Spike Lee

Academy Award-Winning Writer, Producer, Actor & Dire...

Hill Harper

Actor, Author & Philanthropist; Best Known For "CSI:...

Nikki Giovanni

Poet, Educator & Best-Selling Author

Tamera Mowry-Housley

Actress & Entrepreneur; Former Emmy & NAACP Image Aw...

Denzel Washington

Actor, Director & Producer Known for "Fences," "The ...

Jalen Rose

ESPN Analyst & Former NBA Player

Ice-T

Rapper, Record Producer, Actor Known for "Law & Orde...

Wes Moore

CEO of Robin Hood Foundation, Best-Selling Author & ...

John Legend

EGOT Winning Musician, Producer & Philantropist

Dr. Ian Smith

Doctor, New York Times Bestselling Author, Medical C...

Amanda Seales

Poet, Spoken Word Artist & Media Personality, Stars ...

Judge Greg Mathis

Civil Rights Activist, Television Personality

Daymond John

"Shark Tank" Investor; Founder & CEO of FUBU; Presid...
More like Kip