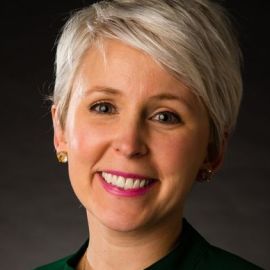 Kirsten Anderson
Advocate for Harassment-Free Work Environments
Kirsten Anderson is a passionate communicator who found herself an unlikely advocate for those facing harassment in the workplace after she took a stand against her former employer: the State of Iowa. On May 17, 2013 she was fired from her job after five successful years as Communications Director for Iowa Senate Republicans.
Kirsten was fired seven hours after formally complaining about repeated harassment and retaliatory behavior by staff and lawmakers at the Iowa Statehouse. She sued the State of Iowa and Iowa Senate Republicans for wrongful termination, harassment, and retaliation and was awarded $2.2 million by a jury of her peers. This rare award sent a message to the Iowa statehouse that harassment, intimidation, and retaliation is not tolerated in the work place, especially where Iowa's laws are made. As #metoo takes the country by storm and empowers others to step forward, Kirsten is working to stand up for what's right and support others who have experienced harassment in the workplace. She is determined to see all workplace harassment end in her lifetime through education, victim support, and continued dialogue. In order to ensure a safe working environment, Kirsten is advocating to end victim shaming and start a conversation on the issue. Harassment doesn't simply happen to women and everyone deserves to work at a place free of offensive and retaliatory behavior.
Kirsten has a degree in broadcast journalism from Northwest Missouri State University. Her professional experience includes running a non-profit, working as a communication coach and trainer, and managing an award-winning professional development program. She is a 2008 Greater Des Moines Leadership Institute graduate and former Leadership Institute Board of Governors member. She currently President of the local chapter of the Association of Women in Communications and is a full-time harassment-free workplace advocate and consultant. In her free time enjoys sharing the hilarious random things her eight-year-old son says and enjoying live music with her husband.
Speech Topics
---
Speaking Up, Standing up for What's Right, End Workplace Harassment Today, Little Things With Big Impact
Related Speakers View all
---
Adama Iwu

Senior Director, Government Relations, Visa, co-foun...

Kori Cioca

U.S. Coast Guard Veteran, Sexual Assault Survivor & ...

Amanda Nguyen

Founder of Rise & Author of the Sexual Assault Survi...

Emilie Aries

Author, Podcaster, Founder & CEO of Bossed Up

Jane Fonda

Actress, Feminist, Author, Political Activist, Forme...

Rebecca Bender

Sex Trafficking Survivor, Advocate & Author

Layla Saad

Author, Speaker & Teacher on the Topics of Race, Id...

Jen Waldman

Director & Founder of Jen Waldman Studio, Facilitato...

Bernice Yeung

Pulitzer Prize-Nominated Author of "In A Day's Work:...

Meena Harris

Former Head of Strategy & Leadership at Uber

Discwoman

DJ Crew, Music Publishing Group & Activists

Elaine Turner

Author of "Breaking The Glass Slipper"

Meredith Walker

Co-Founder & Executive Director of Amy Poehler's Sma...

Jamira Burley

Head of Youth Engagement & Skills for the Global Bus...

Jamilah Lemieux

Writer, Cultural Critic, Columnist at Slate, Co-Host...

Amelia Rose Earhart

Youngest Woman to Fly Around the World in a Single E...

Sheila Marcelo

Founder & CEO of Care.com, the World's Largest Onlin...

Cynthia Germanotta

Co-Founder of the Born This Way Foundation with Daug...

Kristie Kennedy

Women's Worth & Wellness Expert, TEDx Audacious Lead...

Megan Rapinoe

Midfielder & Winger on the U.S. Women's National Soc...
More like Kirsten