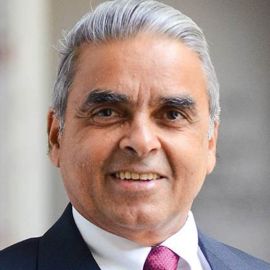 Kishore Mahbubani
Distinguished Fellow, Asia Research Institute at the National University of Singapore; Former Diplomat, Academic & Author
Kishore Mahbubani is a Distinguished Fellow at the Asia Research Institute (ARI), National University of Singapore (NUS). Mahbubani has been privileged to enjoy two distinct careers, in diplomacy (1971 to 2004) and in academia (2004 to 2019). He is a prolific writer who has spoken in many corners of the world.
In diplomacy, he was with the Singapore Foreign Service for 33 years (1971 to 2004). He had postings in Cambodia, Malaysia, Washington DC and New York, where he twice was Singapore's Ambassador to the UN and served as President of the UN Security Council in January 2001 and May 2002. He was Permanent Secretary at the Foreign Ministry from 1993 to 1998. As a result of his excellent performance in his diplomatic career, he was conferred the Public Administration Medal (Gold) by the Singapore Government in 1998.
Mahbubani joined academia in 2004, when he was appointed the Founding Dean of the Lee Kuan Yew School of Public Policy (LKY School), NUS. He was Dean from 2004 to 2017, and a Professor in the Practice of Public Policy from 2006 to 2019. In April 2019, he was elected as an honorary international member to the American Academy of Arts and Sciences, which has honored distinguished thinkers, including several of America's founding fathers, since 1780. Mahbubani was awarded the President's Scholarship in 1967. He graduated with a First Class Honours degree in Philosophy from the University of Singapore in 1971. From Dalhousie University, Canada, he received a Master's degree in Philosophy in 1976 and an honorary doctorate in 1995. He spent a year as a fellow at the Center for International Affairs at Harvard University from 1991 to 1992.
He has achieved several "firsts" in his two careers. He was the Founding Dean of the LKY School, the founding Director of the Civil Service College, the first Singapore Ambassador to serve on the UN Security Council, the first Singaporean to publish articles in globally renowned journals and newspapers like Foreign Affairs, Foreign Policy, the New York Times and the Financial Times and co-authored articles with distinguished global thought leaders like Kofi Annan, Klaus Schwab and Larry Summers.
He has also been a prolific author, having published seven books: "Can Asians Think?," "Beyond The Age Of Innocence," "The New Asian Hemisphere," "The Great Convergence," "Can Singapore Survive," "The ASEAN Miracle" and "Has the West Lost It?."
Mahbubani has received significant international recognition for his many accomplishments. The Foreign Policy Association Medal was awarded to him in New York in June 2004 with the following opening words in the citation: "A gifted diplomat, a student of history and philosophy, a provocative writer and an intuitive thinker". He was listed as one of the top 100 public intellectuals in the world by Foreign Policy and Prospect magazines in September 2005, and included in the March 2009 Financial Times list of Top 50 individuals who would shape the debate on the future of capitalism. He was selected as one of Foreign Policy's Top Global Thinkers in 2010 and 2011. In 2011, he was described as "the muse of the Asian century". He was selected by Prospect magazine as one of the top 50 world thinkers for 2014.
Videos
---
Related Speakers View all
---
Mitt Romney

Former Governor of Massachusetts, 2012 Republican Pr...

Parag Khanna

Leading Geo-Strategist & Author

Gerry Adams

President, Sinn Fein

Robert Bryce

Energy Expert, Veteran Journalist & Acclaimed Author

Sir Richard Branson

Businessman, Founder of Virgin Group

Dr. Anthony Fauci

Director, National Institute of Allergy and Infectio...

Muhammad Yunus

Nobel Peace Prize Laureate & Founder of Grameen Bank...

Joseph Stiglitz

American Economist, Professor at Columbia Universit...

Jeremy Rifkin

Leading Global Technologist, Futurist, Authority on ...

Anil Gupta

Leading Expert on Strategy, Globalization and Emergi...

Ian Bremmer

Political Scientist, Author, Entrepreneur, Lecturer

Harvey Mansfield

Political Philosopher, Author & Distinguished Professor

Daniel Altman

Sports Analytics & Strategy Expert

Seth Berkley

CEO of Gavi, the Vaccine Alliance; Medical Doctor Sp...

Peter Thiel

Former CEO and Co-founder of PayPal; Technology Entr...

John Legend

EGOT Winning Musician, Producer & Philantropist

Maude Barlow

Activist, Author & Former UN Senior Advisor on Water

Calvin Trillin

Author, Columnist, Humorist & Political Satirist

Ambassador Dennis Ross

Author, Counselor & William Davidson Distinguished F...

Jack Perkowski

Managing Partner, JFP Holdings Ltd., Founder, ASIMCO...
More like Kishore