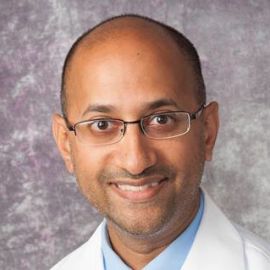 Kishore Vellody
Associate Professor of Pediatrics; Medical Director of the Down Syndrome Center at Children's Hospital of Pittsburgh
Dr. Kishore Vellody joined the Paul C. Gaffney Division of Pediatric Hospital Medicine in 2005 immediately following completion of his pediatric residency at Children's Hospital of Wisconsin. In 2009, Dr. Vellody became the director of the Down Syndrome Center at Children's Hospital of Pittsburgh and has led the expansion of the center in providing enhanced diagnostics and care coordination.
His clinical expertise and exceptional bedside teaching skills as a pediatric hospitalist led to his induction into the School of Medicine's Academy of Master Educators in 2012. He practices as a teaching hospitalist on the general pediatric wards at Children's Hospital of Pittsburgh, at the Children's Home of Pittsburgh, and in the ambulatory setting through the Down Syndrome Center both at the main campus and several satellite locations.
Related Speakers View all
---
Peter Bulova

Down Syndrome Speaker & Researcher; Associate Profes...

Michael Rafii

Professor, Medical Director, Alzheimer's and Down Sy...

Neal Benowitz

Academic Physician & Professor Emeritus of Medicine ...

Nikhil Wagle

Director, Count Me In, Broad Institute

John Brownstein

Chief Innovation Officer, Boston Children's Hospital...

Dr. Aenor Sawyer

Orthopedic Surgeon; Associate Director of Strategic ...

Corey Casper

Chief Medical Officer at the Infectious Disease Rese...

Kathryn Hawk

Assistant Professor of Emergency Medicine at Yale Un...

Dr. Elizabeth Connick

Chief, Division of Infectious Disease at the Univers...

Gavin Yamey

Director of the Center for Policy Impact in Global H...

Jennifer Nuzzo

Epidemiologist & Senior Scholar at the Johns Hopkins...

Kai W. Wucherpfennig, MD, PhD

Professor, Microbiology and Immunobiology, Harvard M...

Barbara Murphy, M.D.

Professor of Medicine; Chair of the Department of Me...

Barbara E. Corkey, PhD

Leading Expert in Diabetes and Obesity Research; Pro...

Robert I. Grossman

NYU School of Medicine & Chief Executive Officer NYU...

Judith Mackay

International Tobacco Control Advocate; Director of ...

Dr. Zoltan Lohinai

Pulmonary Oncologist & Researcher at the National Ko...

Megan Ranney

Chief Research Officer, AFFIRM Research; Associate P...

Dimitri Christakis

Director of the Center for Child Health, Behavior & ...

Dr. Clair Francomano

Clinical Geneticist; Founder of Clinic for Ehlers-Da...
More like Kishore