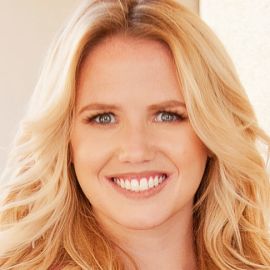 Born with cystic fibrosis, Klyn started her career from inside hospital walls, asking the question, ""why can some people accomplish incredible feats even when it seems as if their world is falling apart?""
In 2015, her health plummeted and she started spending upwards of 6 months a year in the hospital.
And after 67 hospitalizations, finally found her answer.
She gave up her award winning recruiting career and decided to write her first book, I AM ___ The Untold Story Of Success. Using Linkedin between treatments, she got national news coverage regarding pharmaceutical pricing gauging and her book skyrocketed to becoming a bestseller, allowing her to get off of social security and build her own recruiting company.
She had it all. And yet, something was missing.
After she received the highest rating ever for a keynote at a national entrepreneurial conference, she listened to the voice in her head that said ""trust your gut."" And MK Foundation was incorporated.
She immersed herself into the field of neuroscience, personal growth, and mindset techniques on creating rapid transformation.
In 2019, just two years after getting off of social security, she hit 6 figures and through strategic partnerships in 2020 she created her first 7 figure deal.
During COVID 19 she was approached to create Sickly Confidential, an empowering blog sharing personal growth strategies for women dealing with chronic conditions, rare disease, invisible illnesses, and those suffering with undiagnosed conditions.
Videos
---
Speech Topics
---
SALES GROWTH: LEVERAGE NEUROSCIENCE TO GET UNSTUCK, MOTIVATED, AND SELLING
All too often when sales teams are stuck, leadership throws new education and tactics on top of them without addressing the underlying issue. All "stuck states" come from the inability to correctly internalize an event. This is why some people view change positively, others view it as a threat. By rewiring our brains to be receptive to the paradox of potential, we can immediately untap a different level of energy, to be more productive and enjoy our lives more.
Your team doesn't need a peptalk, it needs a process. Hope is not a strategy. Leverage these teaching, rooted in neuro-associative techniques, to get your team back on track.
CYSTIC FIBROSIS: WHAT THE LIVING CAN LEARN FROM THE DYING
Klyn shares life lessons from growing up inside of hospitals battling cystic fibrosis and combines those lessons with tactics for you to thrive as a leader, as a spouse, parent, and individual. This presentation unlocks your deepest desires for purpose and connection.
Bring tissues and be prepared to laugh and cry in a way you've never experienced before.
RESILIENCY: HOW LEADERS CAN RISE WHEN ADVERSITY & CHANGES OCCUR
We are mentally programmed to give up or be upset, not necessarily because our lives are so tough but because we haven't learned the strategies and tactics to persevere when the odds are against us.
In this raw, inspiring keynote Klyn explains how growing up within hospital walls due to complications of cystic fibrosis actually was the most advantageous thing to ever happen for it showed her a clear sense of purpose for her life.
These principals, strategies and tactics explained in this incredibly emotional, heart felt presentation is something that can be applicable to anyone fighting to thrive in their business, their career, family, or even their life.
This keynote is highly recommended for those looking to turn extreme adversities to an advantage.
Mindset, Personal Growth, Neuroscience, Cystic Fibrosis, Inspiration, Motivation
Related Speakers View all
---
Patrick J. Sweeney

Best-Selling Author of "Fear is Fuel", Adventure Key...

Johnny Wimbrey

CEO of Wimbrey Training Systems, TV Personality, Mot...

John Amatt

Mountaineer, Founder & President of One Step Beyond ...

Derek Gaunt

Expert Trainer, Coach & Author Author of "Ego, Autho...

Matt Johnson

President of On Target Living; Human Capacity Expert

Christy Wright

Business Coach & Author

JP Pawliw-Fry

Co-Founder of the Institute for Health and Human Pot...

Dr. Jill Bolte Taylor

Scientist, Author & CEO of My Stroke of Insight, Inc.

Vince Poscente

Former Olympic Speed Skier, Best-Selling Author, Lea...

Warren MacDonald

Adventurer, Author & Motivational Speaker; Double Ab...

Caitlyn Jenner

TV Personality, Olympic Gold Medalist & Iconic Trans...

Alan Hobson

Author, Mt. Everest Climber & Cancer Survivor

Mark Victor Hansen

Founder & Author of Chicken Soup for the Soul Book S...

Joseph Grenny

New York Times Bestselling Author; Leading Social Sc...

Jim Craig

Gold Medal Olympian; Inspiration for Disney Film "Mi...

Dan Clark

Master Motivator, CEO, New York Times Bestseller & M...

Jack Canfield

Co-Author of "Chicken Soup for the Soul" Series; Pea...

Joan Brock

Inspirational Speaker & Author of "More Than Meets t...

Stacy Allison

Businesswoman, Adventurer, Author & Motivational Spe...

Jim Abbott

Former One-Handed Major League Baseball Pitcher
More like Klyn