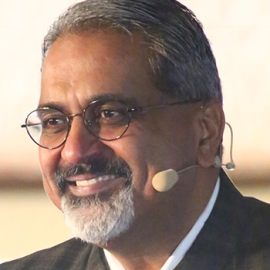 The road Krish Dhanam took to becoming one of the most dynamic speakers in America began in southeast India with the dream of moving to America. He arrived in New York City in 1986 with nine dollars in his pocket and a burning desire to achieve the levels of success hed seen in the American-made movies he viewed as a child.
Dhanam won a sales contest and a ticket to a seminar conducted by Zig Ziglar. That chance encounter in 1991 led to an association with Zig and his company, Ziglar, Inc., that exists until this day. From telemarketer to Vice President of Training for Ziglar Training Worldwide and Director of International Operations for Ziglar Training Systems, Dhanams climb to the top has been phenomenal.
He is the author of The American Dream from an Indian Heart, From Abstracts to Absolutes and contributing author to the book Top Performance written by Zig Ziglar. His latest book Hard Headed Soft Hearted co-authored with Rick Belluzzo, the former President of Microsoft, is being used as culture-transformation curriculum globally.
Krish also acts as the Global Corporate Adjunct for Ravi Zacharias Ministries and sits on the board of The Skypass Foundation. As a Managing Partner in SkyLife Success, he is constantly developing curriculum for global deployment. He is also actively involved in his church and is the President of Mala Ministeries. He and his bride Anila are the proud parents of Nicolas. Krish and his family make their home in Flower Mound, Texas.
Speech Topics
---
The Selling Continuum
Krish Dhanam has spoken to over a 100 audiences a year for almost two decades. During this time he has watched the process of sales, service, and negotiation unfold in almost fifty countries on six continents. In a world that is increasingly changing Krish uses an approach that searches for the thread that connects the various parties involved. From the discovery required to understanding that customers will more often buy for their reasons and not yours to the belief that a transference of feeling has to take place for effective results, this session can be a keynote or a workshop. Here the content is customized or tailored to the needs of your organization or the theme of your convention.
Selling Is Not Telling
Having learned the fundamentals of selling from the legendary Zig Ziglar, Krish has authored curriculum in all facets of personal and professional development. To this end his speech, Selling Is Not Telling, pinpoints the mistakes that most sales professionals make when canvassing their product. The eagerness to be feature-driven and not benefit-oriented makes them talk about their product's application versus the solutions that the same product will provide the customer. Here the participants will be engaged in many simulations where they are shown the way to display value once rather than explain price over and over again.
If You Cannot Understand, Stand Under
The premise and foundation of this keynote is take people back to the attributes of foundational thinking. By understanding that there is a way we define and express ourselves and by clinging to the absolutes we know there is a freedom to achieve. In this session business speaker Krish Dhanam will engage the audience with his trademark humor and guide them through a narrative of distinctive motifs that will allow each participant to begin a voyage of self-discovery that allows them to be more, do more, and have more.
The American Dream Has No Snooze Button
This is one of the most requested topics in a time when we are undergoing unprecedented change. Here the design, development, and delivery of the keynote is tailored to meet the specific requirements of the client. Business speaker Krish Dhanam will work with your theme to structure the content of his communication to fit the specific requirements of your group. The basic premise is to remind people that survival is assured and stability is available if you just show up. But by doing what is required and helping one or two other people along the way the quantitative result is unimaginable.
The Dependability Factor
Are you going through life just being counted or are you growing through life being counted on? Learning to live your day by the clock and your life with a vision is sometimes easier said than done. But when you understand the tri-dimensional nature of man's composition you will begin to see that there is a method and madness to excellence. Here the approach is more holistic in terms of giving people an opportunity to look at their effort and output in the totality of the human experience. Relying on debunking some traditional myths, business speaker Krish Dhanam will draw an anthropological thread for success and significance.
Additional Topics Include:
You Gotta Have Goals
Give up Goals, Go up Goals
Qualify your Dreams - Learn, Learn, Learn - Never Stop Learning
Overcome Inactivity
Seven Step - THE formula for setting realistic and attainable goals
Find those who can lift you up
Find your weakness - Make it a strength
Discipline - It only takes a little
Books
---
Related Speakers View all
---
Daymond John

Founder & CEO of FUBU, Presidential Ambassador for G...

Jason Young

Former Senior-Level Manager at Southwest Airlines & ...

Desi Williamson

The Ultimate Impact Speaker

Neal Petersen

History-Making Extreme Adventurer, Award-Winning Aut...

Keith Ferrazzi

CEO, Ferrazzi Greenlight / Best-Selling Author

Roger Crawford

Athlete & Motivator

Vince Poscente

Former Olympic Speed Skier, Leadership and Sales Exp...

Paul Orfalea

Founder of Kinko's, Philanthropist-Chairman of the O...

Julio Melara

Julio Melara is one of today's leading motivational ...

Daniel Gutierrez

Business Consultant / CEO / Motivator

Anil Gupta

Leading Expert on Strategy, Globalization and Emergi...

Farrah Gray

Celebrity Entrepreneur & Bestselling Author of "Real...

Simon T. Bailey

Speaker, Author, Life Coach and Entrepreneur

Tony Alessandra

Business Consultant, Best Selling Author of "The Pla...

Mike Schlappi

Paralympic Medalist

Chad Hymas

Best-Selling Author, Chad Hymas has been inducted in...

Marshawn Evans

Performance Strategist & Author

Caitlyn Jenner

TV Personality, Olympic Gold Medalist & Iconic Trans...

Stedman Graham

Chairman & CEO of S. Graham & Associates, Leadership...

Les Brown

Motivator, TV Personality & Best-Selling Author
More like Krish