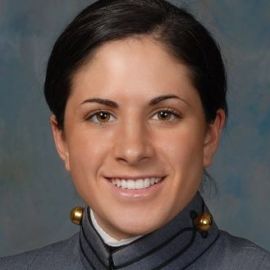 Kristen Marie Griest is one of the two first women, along with Shaye Lynne Haver, to ever graduate from the US Army Ranger School, which occurred on 21 August 2015. Griest and Haver were ranked 34th on Fortune magazine's 2016 list of the World's Greatest Leaders.
Griest graduated from the United States Military Academy in 2011. She also served in Afghanistan as a military police officer.
Griest began Ranger training in the spring of 2015 as part of a one-time pilot program to see how women would do in Ranger School. She started the course with 19 other women, marking the first time women have ever been allowed to participate through the course. At the culmination of 2 attempts to successfully complete the first phase, all women had failed one academic requirement or another. Griest, along with Shaye Haver and one soldier still in training, was given the opportunity to start from the beginning, commonly referred to as a "Day 01" recycle. Recycles are very common, and are frequently offered to male Ranger students as well. The three of them began training with Ranger Class 08-15. Griest and Haver would go straight through the course without recycling any other phase.
When Griest graduated from Ranger school, the premier leadership course in the US Army, she along with any other female were not allowed to serve in Ranger/Infantry roles in the US Army due to the Pentagon's exclusion policies on women in combat. That policy changed on December 3, 2015, when Secretary of Defense Ash Carter announced that the US military will open combat positions to women, with no exception.
Videos
---