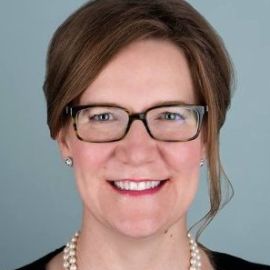 Kristen Pressner is Vice President and Head of Human Resources Europe, Middle East, Africa and Latin America for Roche Diagnostics. Kristen has worked extensively in both the United States and Europe, in diverse positions across all HR disciplines. Since 2012, Kristen has been responsible for HR for the largest business region of Roche: with more than 7,000 employees, spanning 4 continents , across over 150 countries. She knows the subject "Women in Leadership Positions" from the perspective of a 'real' woman executive herself, but also as the mother of 4 children.
International business and HR executive with diverse, global experience and rapid progression in career scope and challenges. Known as an inspirational leader, with proven results orientation, consistently high motivation and highly collaborative spirit, I enable world-class organizations to unfold.
Specific expertise in exceptional business partnership, talent development and acquisition, organization and culture building and track record of attracting and developing exceptional talent. Additional strengths in compensation and performance management, change management and global employee communications.
Passionate advocate and inspirational international speaker on Women in Leadership (e.g.keynotes, podcasts)
Videos
---
Speech Topics
---
Women in Leadership Positions