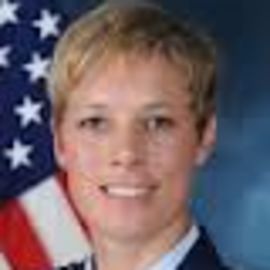 Kristin Fisher-Goodwin
Military Fellow, Project on Nuclear Issues, International Security Program
Colonel Kristin Fisher-Goodwin is serving as the U.S. Air Force fellow at the Center for Strategic and International Studies. Colonel Goodwin is a B-2 and EC-130 instructor pilot with over 2,700 hours of flight time. She has served in numerous flying assignments including squadron commander, director of B-2 flying operations, chief of wing combat plans, chief of wing scheduling, operations group executive officer, and flight commander. In addition, she has served as senior executive officer to the commander of Air Combat Command, political adviser (POLAD) to the chief of staff of the Air Force, deputy director of the U.S. Pacific Command, Commander's Action Group, and was selected for the Air Force Intern Program and worked in the SAF/AA Office and CJCS/LA Joint Staff. During her POLAD fellowship, she worked in the State Department as a political officer in the U.S. embassy in Bangkok, Thailand, addressing counterinsurgency, port security, and refugee issues. She has deployed numerous times to Guam and the Middle East in support of a variety of missions.

Col Fisher-Goodwin graduated from the U.S. Air Force Academy in 1993 with a B.S. degree in mechanical engineering. She also holds an M.A. in business and organizational management from the George Washington University. Some of her military awards and decorations include the Air Medal, Air Force Commendation Medal, Air Force Achievement Medal with four oak leaf clusters, and Combat Readiness Medal with three oak leaf clusters.

Speech Topics
---
INTERNATIONAL SECURITY PROGRAM, PROJECT ON NUCLEAR ISSUES
Related Speakers View all
---
J. Christopher Daniel

Senior Associate (Consultant), Global Health Policy ...

Sadika Hameed

Fellow, Program on Crisis, Conflict, and Cooperation

Sharon Squassoni

Director and Senior Fellow, Proliferation Prevention...

Stephanie Sanok

Deputy Director and Senior Fellow, International Sec...

Bryan H. Cannady

Military Fellow, International Security Program

Edward C. Chow

Senior Fellow, Energy and National Security Program

Sarah O. Ladislaw

Co-Director and Senior Fellow, Energy and National S...

Gerald Hyman

Senior Adviser and President of Hills Program on Gov...

Rick "Ozzie" Nelson

Director, Homeland Security and Counterterrorism Pro...

Scott Miller

Senior Adviser and Scholl Chair in International Bus...

Persis Khambatta

Fellow, Wadhwani Chair in U.S.-India Policy Studies

Brian Penoyer

Military Fellow, International Security Program

Margaret Lane Taylor

Council on Foreign Relations Fellow

Sergey Markedonov

Visiting Fellow, Russia and Eurasia Program

Guy Ben-Ari

Deputy Director and Senior Fellow, Defense-Industria...

Nathaniel Ahrens

Deputy Director and Fellow, Hills Program on Governance

David Santoro

Senior Fellow for Nonproliferation and Disarmament, ...

Ernest Z. Bower

Senior Adviser and Chair for Southeast Asia Studies

Christopher K. Johnson

Senior Adviser and Freeman Chair in China Studies

Nicholas Szechenyi

Deputy Director and Senior Fellow, Office of the Jap...
More like Kristin