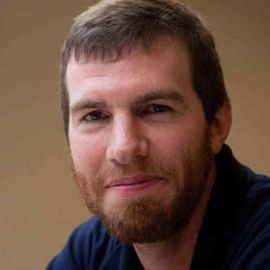 Kristofer Helgen
Zoologist & Curator of Mammals at the Smithsonian; Discovered the Carnivorous Mammal, the Olinguito
Kristofer Helgen is a research zoologist and curator of mammals at the Smithsonian National Museum of Natural History. He earned his Ph.D. in zoology at the University of Adelaide in Australia and has worked on almost every continent. Kris is renowned for discovering new mammal species worldwide. He has appeared on the Discovery Channel and on television and radio programs around the world.
Though he's still in the beginning of his career, Helgen has already discovered approximately 100 species of mammals that were previously unknown to science, including the newly-discovered carnivorous mammal, the olinguito.
The olinguito made headlines not just because many people mistook it for the already-known olingo, but because finding a new, carnivorous mammal is extremely rare. Helgen was the one who led the discovery, which took 13 years and actually started out as a study to fully describe the olingo.
It was at the Chicago Field Museum that Helgen found pelts identified as those of the olingo, though they seemed different to Helgen. Upon analyzing the teeth and general anatomy of the associated skulls, Helgen realized that it was an entirely new species.
Videos
---
Related Speakers View all
---
Paul Nicklen

Renowned Wildlife Photographer & Conservationist

Daniel Pauly

Daniel Pauly is the principal investigator at the Se...

Michael Archer

Paleontologist Michael Archer is working to bring ba...

Paul Snelgrove

Paul Snelgrove led the group that pulled together th...

Frans De Waal

Primatologist & Ethologist; Professor at Emory Unive...

Jonathan Trent

Former Director of Offshore Membrane Enclosures for ...

Dr. Adam Summers

Associate Director of University of Washington's Fri...

Bindi Irwin

Wildlife Conservationist & Daughter of Steve Irwin; ...

Dr. Hendrik Poinar

Evolutionary Biologist Specializing in Ancient DNA

Todd Humphreys

Todd Humphreys studies GPS, its future, and how we c...

Bart Knols

Scientist, Author, Entrepreneur

Gijs van Wulfen

Founder of the FORTH Innovation Method

Dr. Matthew Breen

Dr. Breen / Professor of Genomics in the Dept. of Mo...

Dave Salmoni

Animal Planet Television Personality & Large Predato...

Willie Smits

Trained Forester, Microbiologist, Conservationist, A...

Dr. Tierney Thys

Marine Biologist, Educator & Filmmaker

Lucy King

Zoologist, Human-Elephant Ambassador

David Mizejewski

National Wildlife Federation Naturalist & Media Pers...

Simon Lovell

English Comedy Magician, Card Shark Actor and Con Man

Michelle Borkin

Michelle Borkin is a PhD candidate in applied physic...
More like Kristofer